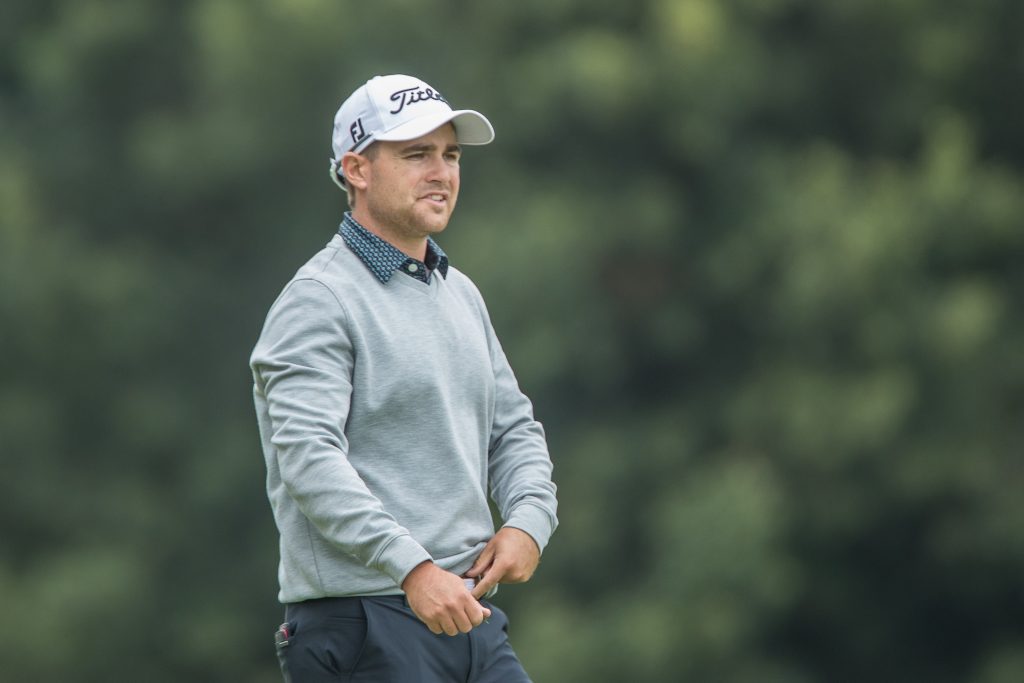 9th May 2021 | Big Easy IGT Golf
McClatchie eyeing up top 3 spot on Chase to Sunshine Tour
PRETORIA, May 7 – Kyle McClatchie made up some ground on the man currently holding down third place on the Big Easy IGT Challenge Tour's Chase to the Sunshine Tour listings this week with his fifth-place finish in the tournament at Services Golf Club.
McLatchie finished in fifth place on his own in the Chase to the Sunshine Tour #24 tournament on a score of nine-under-par 207, well off the pace of the amateur winner Kyle de Beer's 17-under, but, importantly, five clear of Leon Vorster who finished in a share of ninth at four-under.
It's a long season still, with 16 tournaments left on the Chase to the Sunshine Tour series before the series final at Centurion Country Club on December 13, but the players who have worked themselves into position to challenge for the top three positions which will win Sunshine Tour cards are starting to watch changes very closely.
McClatchie is currently in fourth after playing in 14 of the tournaments so far, and Vorster is in third after playing in 23. And the gap is closing, with McClatchie on 41,309 points to Vorster's 46,741. The lead is still held by Michael Kok on 56,015 points, with amateur star Casey Jarvis on second with 48,209.
McClatchie lies seventh on the list of stroke averages on the Chase to the Sunshine Tour amongst players who have played 20 rounds or more. He has an average of 70.32 over 62 rounds, while Vorster's average is 71.16 over 90 rounds. That's an important edge over a long period of time, and one McClatchie would do well to exploit heading towards the final.
McClatchie also holds an edge in accuracy: He has hit 73.28 percent of 134 greens in regulation, and that's substantially better than the 64.07 percent of 620 by Vorster. That, of course, translates into more birdie opportunities, and that, in turn places emphasis on putting statistics.
And it's there that Vorster has the smallest of edges: He has an average of 1.78 putts per greens hit in regulation compared to the 1.80 for McClatchie. That's statistically insignificant, really, even over a long time, given the edge McClatchie holds in areas of the game which give him bigger margins.
But, with the events ahead, there's time for some people to come through the field and finish inside the top three. McClatchie knows that, and he'll want to cement his spot to be able to regain his playing privileges.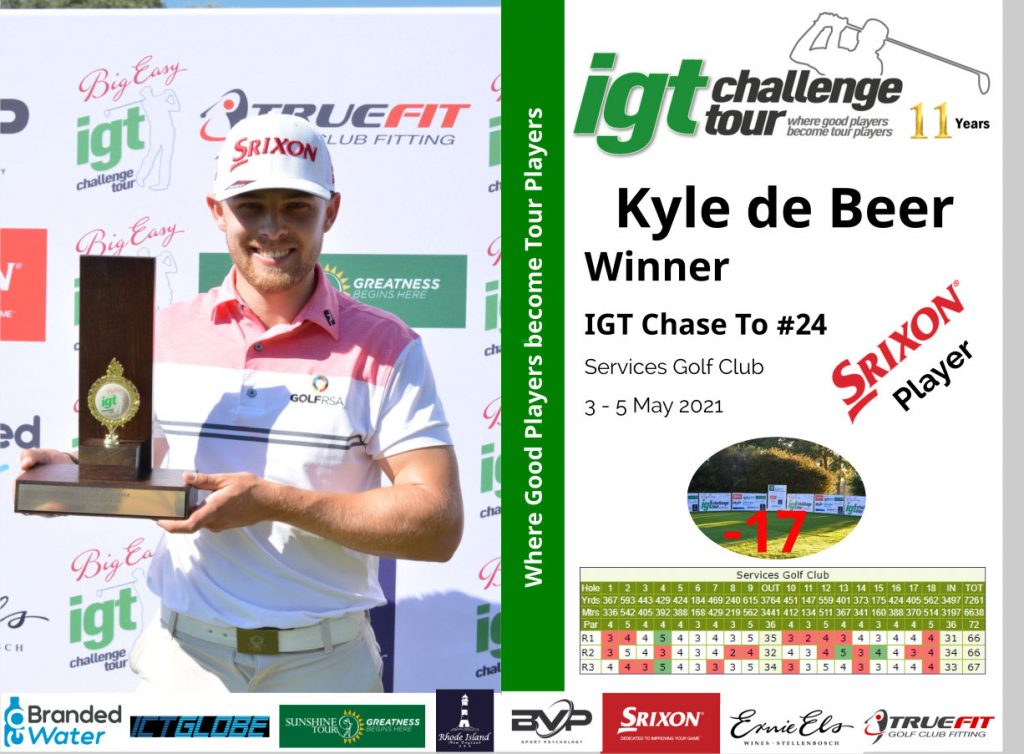 5th May 2021 | Big Easy IGT Golf
De Beer becomes latest GolfRSA star in IGT winner's circle
ZWARTKOP, May 4 – Kyle De Beer became the latest GolfRSA Elite Squad member to claim victory on the Big Easy IGT Tour after he raced to a three-shot win over Drikus Joubert in the IGT Tour Chase To #24 at Service Golf Club.
The 23-year-old Port Elizabeth Golf Club player entered the final round tied for the lead with fellow amateur Adam Breen, both at 12-under, but a final-round 67 placed him well beyond the reach of any chaser. A total of 17-under earned him his maiden Tour title and a spot in the ever-growing list of GolfRSA's representatives who have claimed career-altering victories on this circuit.
"The talent in the squad is just ridiculous," said De Beer on becoming the latest member of that squad to win a professional tournament.
"I'm very happy to join a couple of my mates who have won on the IGT and Big Easy. There are so many good players in the squad; I'm not surprised that few have won on Tour, and I believe many more will win in the future."
De Beer knew from day one when he posted his first-round 66 that the week was going to be tough and while his second-round 66 made it all look like it was easy, the fifth-ranked amateur in the country was never deluded.
He knew he still needed a good score if he was to contend for the title and two birdies in the first two holes gave him an ideal start. He dropped a shot, however, on three and would only make up for that shot later on when he made another birdie on seven to turn in 34. A birdie soon after the turn followed before two more – on 14 and 18 – made up a bogey-free back nine for a total of five-under-par 67.
"It was always going to be tough today," he said. "I had a couple of sloppy shots on the back nine today which forced me to stay focussed because it could have easily gotten away from me. Luckily, a couple of chip shots and putts that I needed to make went in. The only time I knew it was game over was when I hit my second shot onto the green on 18, and then I knew that it was pretty much sealed."
De Beer joins the likes of Casey Jarvis, Christiaan Maas and Ryan Van Velzen, who has since turned pro, in the list of recent GolfRSA squad members to win here.
Despite a gallant fight in the final round, Joubert will have to do with a runner-up spot at 14-under while Breen's tournament total of 13-under means he will settle for third this week.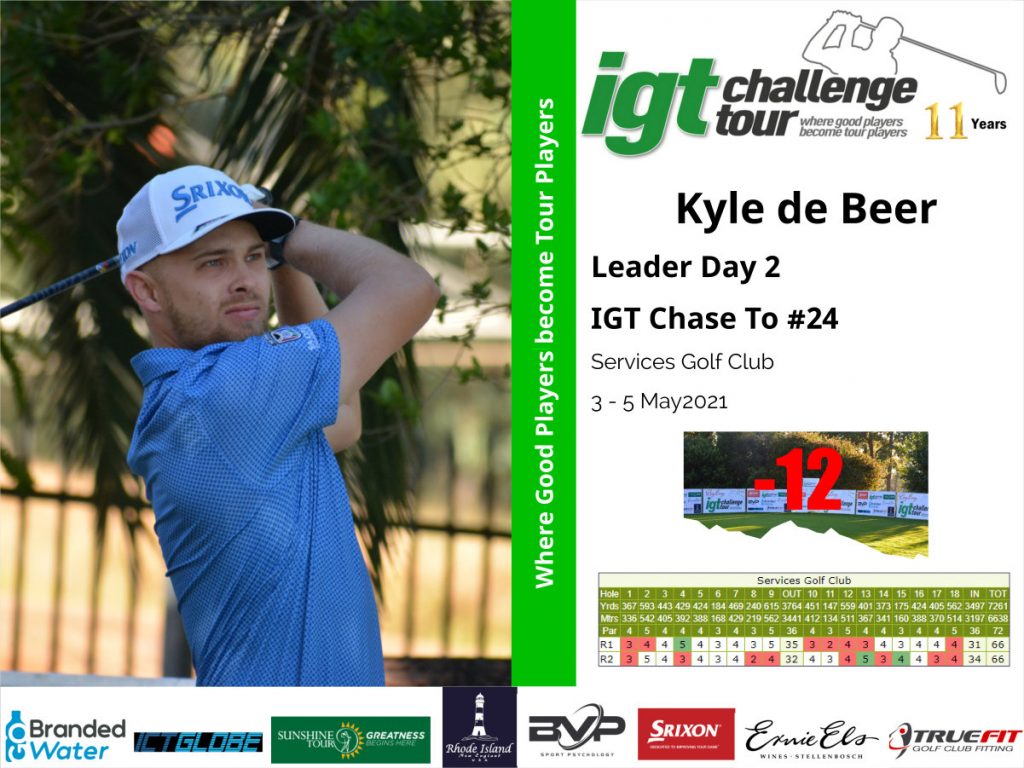 4th May 2021 | Big Easy IGT Golf
De Beer, Breen pull two shots clear ahead of the final round at Services
ZWARTKOP, May 3 – Amateur Kyle De Beer carded a second round of six-under-par 66 to go to 12-under for the week and tie the lead with fellow amateur Adam Breen ahead of the final round of the Big Easy IGT Tour Chase To #24 at Services Golf Club.
It was his second 66 in succession, having opened with the same score on day one of this 54-hole event.
Coming in as the fifth-ranked amateur in the country and a member of the ever-ambitious GolfRSA squad, De Beer is all discipline this week; paying attention to every detail of his game after the first 36 holes.
"My short game, in general, has been strong this week," he said after his round. "My chipping has also been very good; I think my wedge game has been nice too and the putting, so my game has been solid overall. My driving improved a bit today and that was really good to see. I think I've been pretty solid in all aspects this week."
He avoided any sort of big number on the front stretch; navigating his way to a sparkling four-under 32 before the turn. He birdied the first, the fourth, the eighth and ninth holes as he charged for the top spot. A drop on the par-four 13th threatened his progress but he bounced back with a birdie on the next hole. He surrendered those gains too on the 15th but back-to-back birdies on 17 and 18 which catapulted him to a share of the lead and two shots clear of Michael Kok and Drikus Joubert.
"Tomorrow, I'm just going to go with the same game plan; try to execute the same shots and try to go as low as I can," added De Beer. "I think I have played pretty solid golf this week and I don't see why I should change, so it's going to be the same golf tomorrow."
Breen, while bemoaning some of the errors he made during the round, produced a fine round of golf which yielded a three-under-par 69 score. The three bogeys he made, he feels, could have been avoided and thus a lower score than what now appears on his scorecard could have been the result.
"Today was pretty difficult," said Breen, "the conditions were tricky with the wind getting up a touch and I made a few very silly errors through the course of the round. But overall, I'm pleased with the result today.
"Things are very tight and I'm looking forward to getting stuck in tomorrow. I have driven it really solid off the tee all week and have wedged it and putted it great, so I will hope to continue with that tomorrow."
The two representatives of GolfRSA will be paired with the experienced Michael Kok who has already tasted success this season. Only two shots off the pace at 10-under-par, he will want to build on the great form he has enjoyed and mount a challenge for his second win of the season.
"It is what we practice for at this level," said Breen of what is expected to be an exciting final round, "to be at the top of the leaderboard with the trophy on the line. I'm looking forward to getting going again."
Kyle McClatchie and Vaugh Van Deventer share fifth at six-under-par for the tournament while Keelan Van Wyk is solo seventh. Herman Loubser and Zabastian de Jager are tied at eight on four-under while Lincon Cele and Delano Kotze share 10th at three-under-par.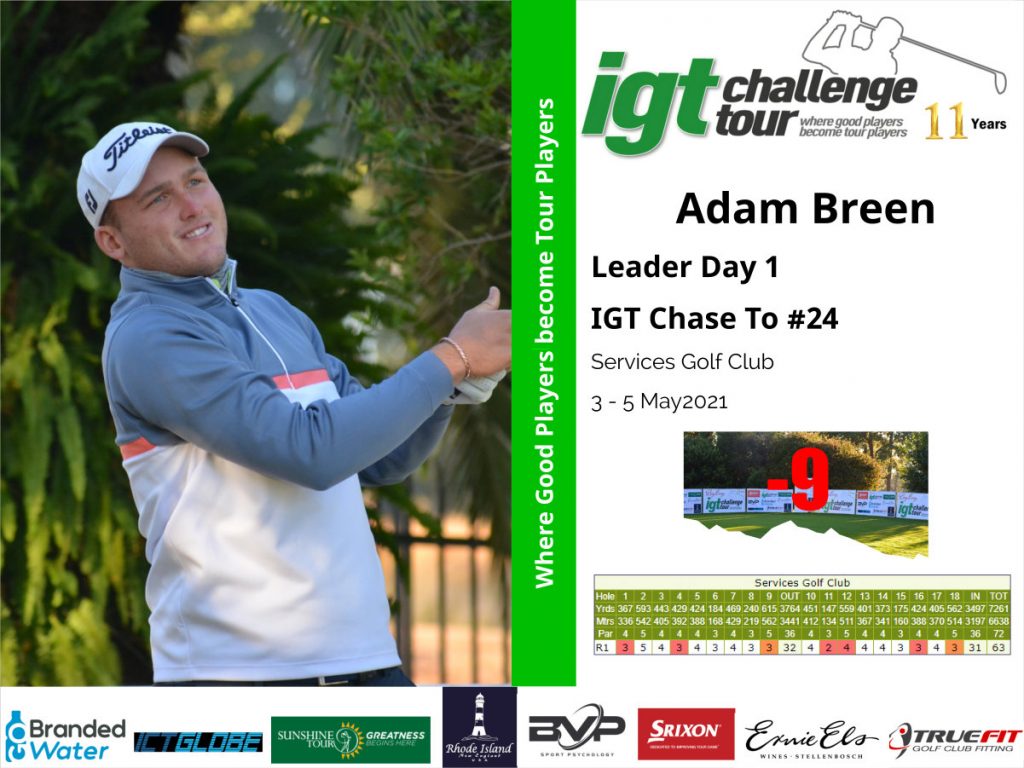 3rd May 2021 | Big Easy IGT Golf
Breen, Joubert share top spot after scintillating rounds at Zwartkop
ZWARTKOP, May 3 – A spectacular nine-under-par 63 each saw amateur Adam Breen and Drikus Joubert take to the top of the leaderboard after the opening round of the Big Easy IGT Tour Chase To #24 at Services Golf Club where they co-lead by three shots.
"It was a really good round," said Breen after his flawless round. "My game was feeling great and got off to a hot start on the front nine. I putted really nicely and made some really important par saves after some poor shots on 13,14 and 15 to keep the momentum going.
"We were first off this morning so it was chilly, but the scoring conditions were there and we probably had a slight advantage. The first time we felt a breath of wind was on the 11th tee, which was a nice change after last week's weather."
He birdied the first and fourth holes to get things going and made an eagle on the ninth, his first of two in today's round. After the turn, Breen who plays out of Country Club Johannesburg, made back-to-back birdies on 11 and 12 to solidify his charge for the top spot. He found more joy after three straight pars as he made another birdie on 16 before closing off with another eagle and sign for a 63.
"The two eagles were awesome," said Breen, "I hit a poor 5-iron into the ninth and came up pin high right of the bunker, and I managed to hole out for eagle there, which was a massive bonus. The eagle on 18 had a bit of luck too; my tee shot ran through the trees and finished next to the first green. I had a clear line at the 18th green, then I knocked a 4-iron on there and made the 20-footer eagle-putt.
"So, I am really pleased to get off to a great start, and I think the most important thing for me to do is to stay in the present and focus on each shot as it happens. Obviously, the goal will be to win but you have to hit the shots when they matter and focus on the controllables.
"Services is a classic style layout with lots of doglegs and small greens, and I think you can find yourself in some pretty hairy spots quickly. I think scoring will come from finding as many fairways and having as many wedges in your hands as possible, and then taking your opportunities on the greens when presented."
Joubert also carded a bogey-free 63 to tie the lead. He was three-under through the first nine holes and did not relent on the homeward stretch as he made six birdies to secure a share of the top spot. Michael Kok, Keelan Van Wyk, Kyle McClatchie and amateur Kyle De Beer share the third spot after they all signed for a score of 66 on day one.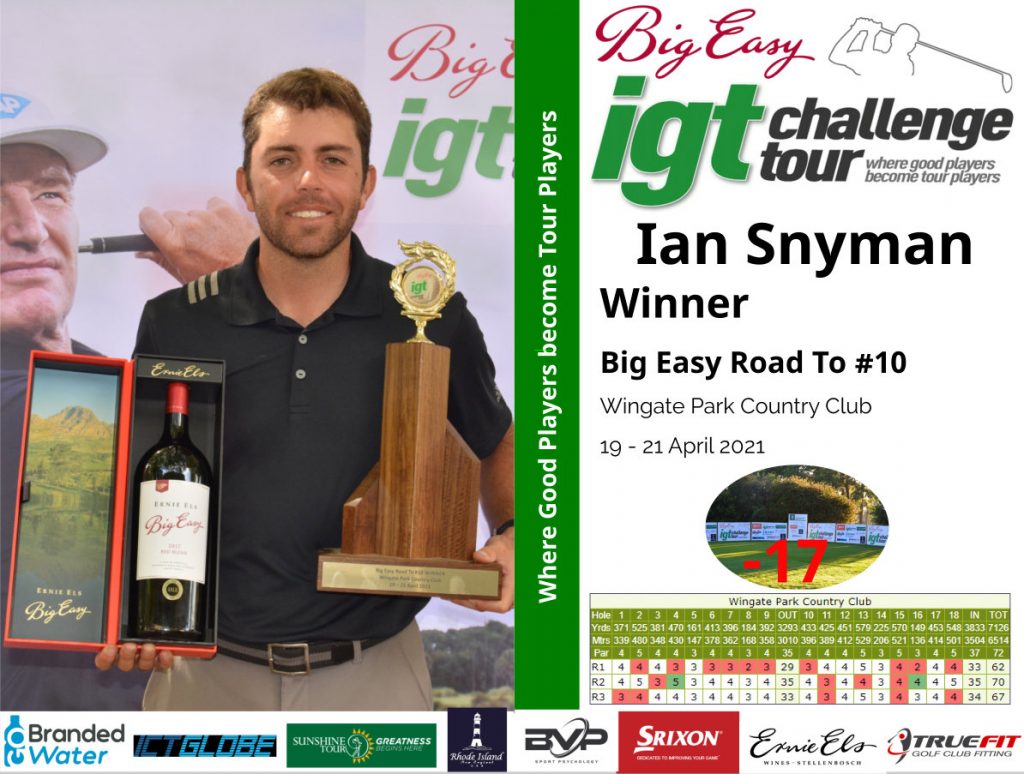 21st April 2021 | Big Easy IGT Golf
Blemish-free 67 hands Snyman comfortable Wingate victory
PRETORIA, April 21 – Ian Snyman slept on the lead for two days before masterminding a bogey-free five-under-par 67 final round of the Big Easy IGT Challenge Tour Road to the Sunshine Tour #10 to claim a five-shot victory at Wingate Park Country Club on Wednesday.
He'd signed for a stunning 62 on day one which gave him a five-shot lead and backed that up with a 70 for a tournament total of 12-under after 36 holes, and a shot clear of Matthew Rushton. With Rushton playing some solid golf to get in contention this week and with a very capable Gerhard Pepler making up the final group on Wednesday, Snyman knew that he had it all to do for his second title of the season.
"I really needed a win to get myself up into that top six," said Snyman, referring to the Road To Sunshine Tour rankings where he was languishing outside (seventh) the top six players who will be eligible for their Sunshine Tour cards at the end of the season.
"I am really happy with the way I played this week. The goal is to get a Sunshine Tour card and I knew I had to get a win soon so that I can get into contention with that top six and it's nice to get it done.
"It's difficult not to think about winning but I had to focus and zone in on my processes and routines. The goal is always to win but you can't think about winning, about making birdies or bogeys, you have to focus on the routine and that's what I did today.
"The short stick was beautiful again today. I had a few testers; a bunch of four to seven-footers and I managed to make all of them. Some of them were for par and those helped me to keep the momentum going throughout the round. The guys didn't put a lot of pressure on me but I still had to make sure I made those pars and not give away any shots. This is great for my confidence."
Snyman made two birdies one after the other on the first two holes and gave nothing away for the remaining seven holes on the front stretch. Coming home, the Cape Town player made another birdie on the 11th, and 15th and closed off with another on the 18th as he dazzled his way to his second win this season.
His first win came back in November when he claimed the Big Easy IGT Tour Chase #12 at ERPM.
Rushton gave a solid account of himself and after grinding his way to a final round 71, he and GolfRSA National Elite Squad member, Christiaan Burke, finished in a tie for the second spot at 12-under-par. Burke closed with a 65 after rounds of 69 and 70.
Pepler finished in solo fourth after a level-par final round left him with a tournament total of 10-under-par and seven strokes off the winning score.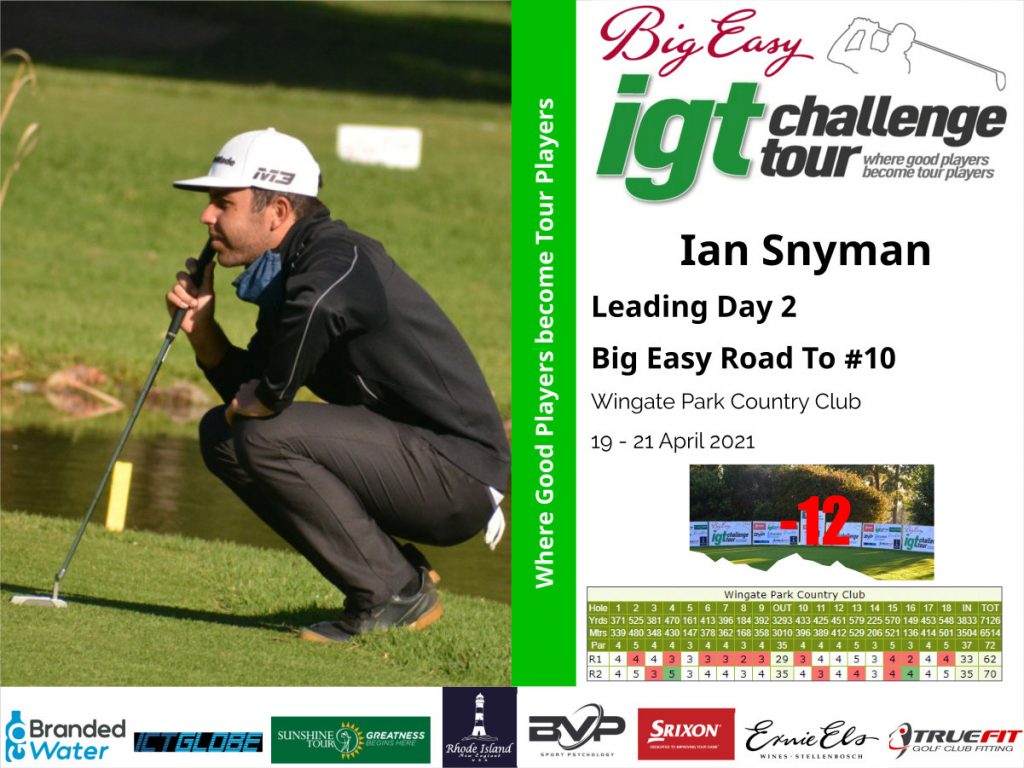 20th April 2021 | Big Easy IGT Golf
Snyman works hard to maintain Wingate lead
PRETORIA, April 20 – Overnight leader in the Big Easy Tour Road To #10, Ian Snyman, was able to hold on to his lead despite tougher weather conditions and thanks to a second-round 70 which took his total to 12-under and a shot clear of Matthew Rushton at Wingate Park Country Club.
Coming into the second round after a confidence-boosting 10-under 62 on day one, Snyman knew it was always going to be difficult to replicate that form on Tuesday.
"Today was a lot windier than yesterday, I must say," Snyman noted after his round. "Today was a little bit different; not as many birdies but a very solid round of golf. I made two drops today; no big numbers and I have fewer birdie chances today than I did yesterday.
"Yesterday I converted a couple of long putts but today I was not able to get a lot of them in the hole. But I think I played solidly and I hit a lot of fairways and greens, but the putts today did not drop as they did on the first day."
Snyman's second-round front nine score consisted of a solitary birdie on the third hole and a bogey on the next hole, with pars dominating what was a steady, if not outright perfect, front set. Coming home, Snyman birdied the 11th, 13th and 15th before making another drop on 16. His total of 70 proved enough to push him a single shot clear of Rushton whose eventful round yielded a 65 to catapult him to solo second at 11-under for the week.
Coming through with the second-lowest score of the round after Rushon's 65, Gerhard Pepler fired in a stunning 66 to take the third spot on the leaderboard at 10-under and two shots adrift.
"Tomorrow is going to be an interesting one," said Snyman who will be paired with both Rushton and Pepler in the final round of this 54-hole event. "I know Matty well and I think he played really well this week so it's going to be fun. I'm not even thinking about a win or something like that. I will just stick to my plan and not try anything fancy."
Harry Konig continues to play himself into contention on this circuit and his round-two 70 to back up his opening 67 helped him to a tournament total of seven-under and solo fourth ahead of the final round. Jason Froneman is six-under this week and occupies the fifth spot on the leaderboard while Christiaan Burke shares sixth with Carlo Heunis.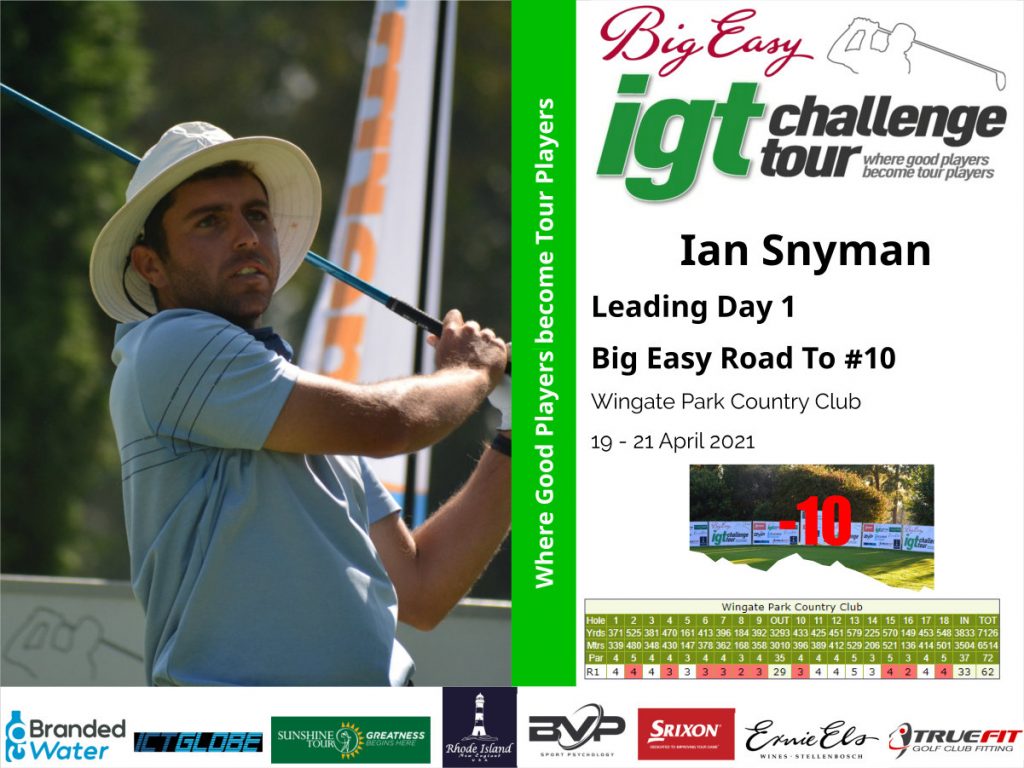 19th April 2021 | Big Easy IGT Golf
Sizzling 62 hands Snyman dream start at Wingate
PRETORIA, April 19 – Cape Town's Ian Snyman raced to a superb five-shot lead on day one of the Big Easy Tour Road To #10 thanks to a scintillating 10-under-par 62 at Wingate Park Country Club on Monday.
"My short stick was awesome today," said an elated Snyman after his round. "The biggest thing today was the putter. Whenever I got onto the greens, I sort of went to autopilot mode and everything just found the center of the cup every single time. It was a really solid day all round."
A bogey-free return of six-under 29 on the front nine – characterised by birdies on the second, fourth, sixth, seventh, eighth and ninth holes – was solid enough all on its own but Snyman knew he still had some work to do coming home.
Another birdie on 10, to make it five birdies on the trot, made its way onto Snyman's scorecard before two more, this time on 15 and 16, followed. Fittingly for a dominant round of this sort, Snyman closed off with a birdie to sign for a 62.
"I think for me it kind of started on the fourth hole," added Snyman, describing how his round went. "I just put myself in positions for birdies, and especially around the back nine and I made a few around that stretch. Overall, I'm very happy with my game.
"I wouldn't say I have been as consistent as I would like because there was a time in the United States when I was really playing consistently. For now, I can't say I've reached that level but I'm happy with my game. Consistency is important on the Big Easy and IGT Tour but I feel like I'm on the right track."
He will sleep on a five-stroke lead over Reinhardt Blaauw, Jason Froneman, Arno Pretorius, England's Harry Konig and amateur Leon Van Der Walt. Gerhard Pepler and Matthew Rushton carded 68s and they tie seventh after round one while member of the GolfRSA National Elite Squad, Christiaan Burke, opened with a 69 to take solo ninth on the leaderboard.
Kyle McClatchie, Matt Bright, Phumlani Maluka, Henning Du Plooy, Ricky Hendler, Llewellyn Booysen and veteran Ryan Tipping share the 10th spot after rounds of 70 each.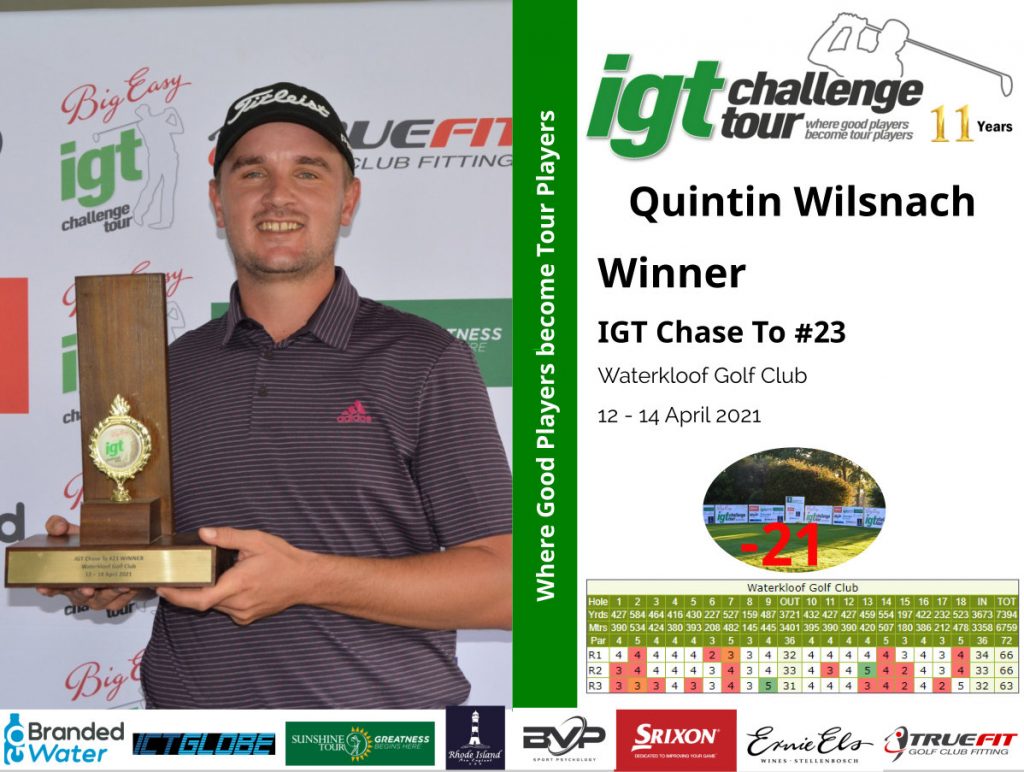 14th April 2021 | Big Easy IGT Golf
Wilsnach dominates his way to Waterkloof victory
PRETORIA, April 14– Pretoria's Quintin Wilsnach put on a commanding performance in familiar surroundings on Wednesday as he claimed a dominant five-shot victory in the Big Easy IGT Tour Chase To #23 at Waterkloof Golf Club, his home course, on Wednesday.
His final round nine-under-63 proved too strong for any challengers as Wilsnach claimed his maiden professional title on a tournament total of 21-under-par 195, just a shot off Daniel Van Tonder's record for a 54-hole IGT event which stands at 22-under-par.
Wilsnach was tied for the lead with amateur Christiaan Burke at the start of the final round, both at 12-under, thanks to some brilliant golf played in the preceding 36 holes. Back-to-back scores of 66 placed Wilsnach in pole position to go all out on Wednesday in search of his breakthrough win on this circuit.
"Today was unreal," said an elated Wilsnach, "I had a perfect start: birdie, eagle, birdie, par, birdie and I was five-under after five. But I think yesterday's round did me a lot of good because it got me into a position to stand a chance to win today. I am happy I got it done because I have come second a few times and I have a couple of top 10s as well.
"It almost felt like there was a little barrier in front of me just blocking me from getting the job done. So, I'm really happy to finally get my professional win. I really felt calm today and I managed to play my own game and not think about yesterday's round or what all the other players were doing. I was just trying to stay in touch with my goal – I set myself a target of 20-under-par and I knew I would have a good chance to win."
Another birdie on the par-five seventh to add to his gains made its way onto his card before Wilsnach made bogey on nine. He refused to let another drop derail his progress and after three straight pars, Wilsnach let loose again; firing in three birdies one after the other from 13 to 15.
Sensing that his moment of glory was entirely dependent on whatever he did in the last three holes of the round, the local man steadied himself nicely by taking a par on 14 rather than risking an unwanted bogey. A birdie on the par-three 17 was followed by a neat par on the last to sign for a 63.
"I am a member here," he adds, "and I know my way around the course. This week was tough but I played solidly and today was tough too. I felt a bit of pressure on the sixth today; Christiaan (Burke) hit a nice shot in there and I tucked mine a bit to the left. But I managed to up-and-down and save par from there."
Wilsnach will now focus his attention on the upcoming Sunshine Tour Limpopo Championship pre-qualifiers as he sets himself a new target. But before then, he will want to enjoy his moment of victory.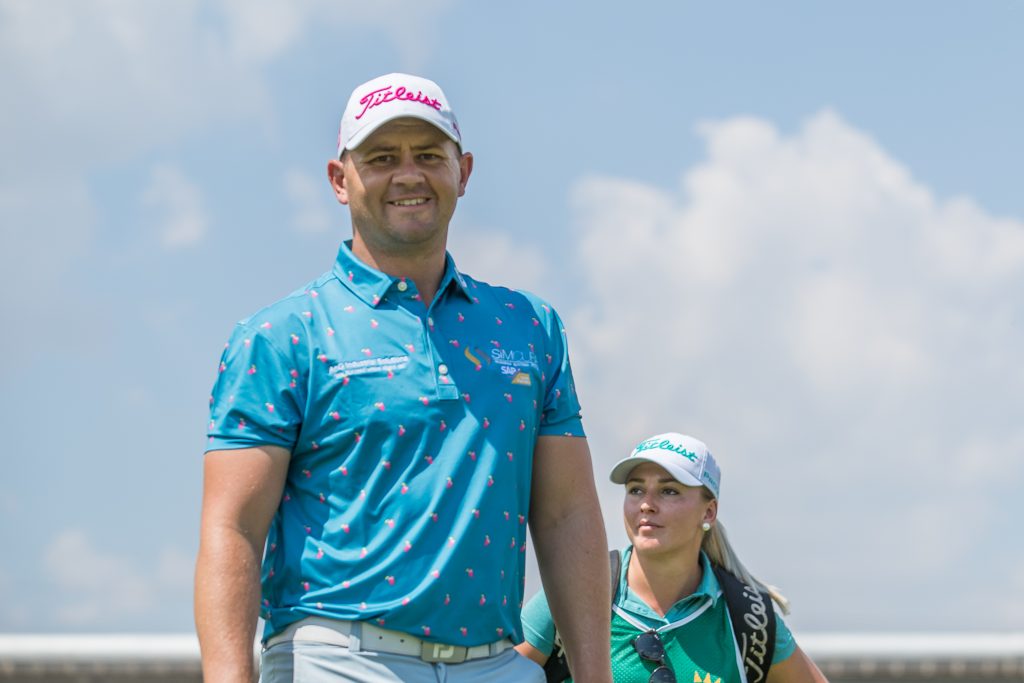 | Big Easy IGT Golf
Van Tonder grateful for IGT roots ahead of debut major appearance
PRETORIA, April 14 – Daniel van Tonder is not one for looking back, but when the invitation for him to play in the year's second major championship, the PGA Championship at Kiawah Island in South Carolina, he couldn't help reflecting on his professional roots.
His breakthrough international victory came on the European Tour at the end of March, when he won the Kenya Savannah Classic in Nairobi, and found himself catapulted inside the world's top 100 on the Official World Golf Ranking.
It's the latest victory in a career that stretches back to 2011, after he turned professional in February that year. And his first professional steps were taken on the Big Easy IGT Challenge Tour, then called the IGT Pro Tour.
"In 2010 I completed my junior golf year by winning 12 times," he says. "I was number one amateur in the country and I wanted to feel how it would be as a pro. So, I signed away my amateur status and played IGT for that year. No-one actually knew me, but I won in the first event I played in on the IGT."
That tournament was a 72-hole event at Blue Valley Golf and Country Estate in Pretoria, and he opened with a two-under-par 70. But he quickly got things going with his second and third rounds of 68 and 64. His closing 70 took him to 16-under for the tournament.
And so it began. "After that I won nine more times," he says laconically.
His extraordinary run that year bears closer examination: He did indeed win nine more times in a total of 19 tournaments, five times over 72 holes, three over 54 holes and once over 36 holes. He came second three times, third once, fourth once, and sixth, seventh and eighth once each in his 'worst' performances of the season.
He used that superb foundation to take a step up. "That year, I finished second at the Sunshine Tour Qualifying School," he says. "And then I went on and won Rookie of the Year."
Again, the brief summary does scant justice to a great year: He came second twice, and had five other top-10s. In cash terms, his best performance was a share of 15th in the Alfred Dunhill Championship which netted him just short of R230,000.
He went on to win twice on the Sunshine Tour in 2014, after which he experienced a five-year drought before breaking through again in 2019. Then the floodgates opened: Four wins between the end of August 2020 and the end of October that year after the return to action of the tour from the lockdown signalled that his earliest professional dominance had returned.
"I am a big believer in looking towards the future. The past is the past and it can't be changed," he says. "But the IGT is a great way to go and test yourself and see if you are good enough. You have to play well at every event and the pressure is very similar to the Sunshine Tour.
"It's a great stepping stone to enter the Sunshine Tour, and that in turn prepared me to be able to make it on the European Tour. And I am very grateful to the IGT for the start it gave me."
It's a start which will have him teeing it up with the world's best in the PGA Championship in May. He knows he belongs there because of his solid foundation.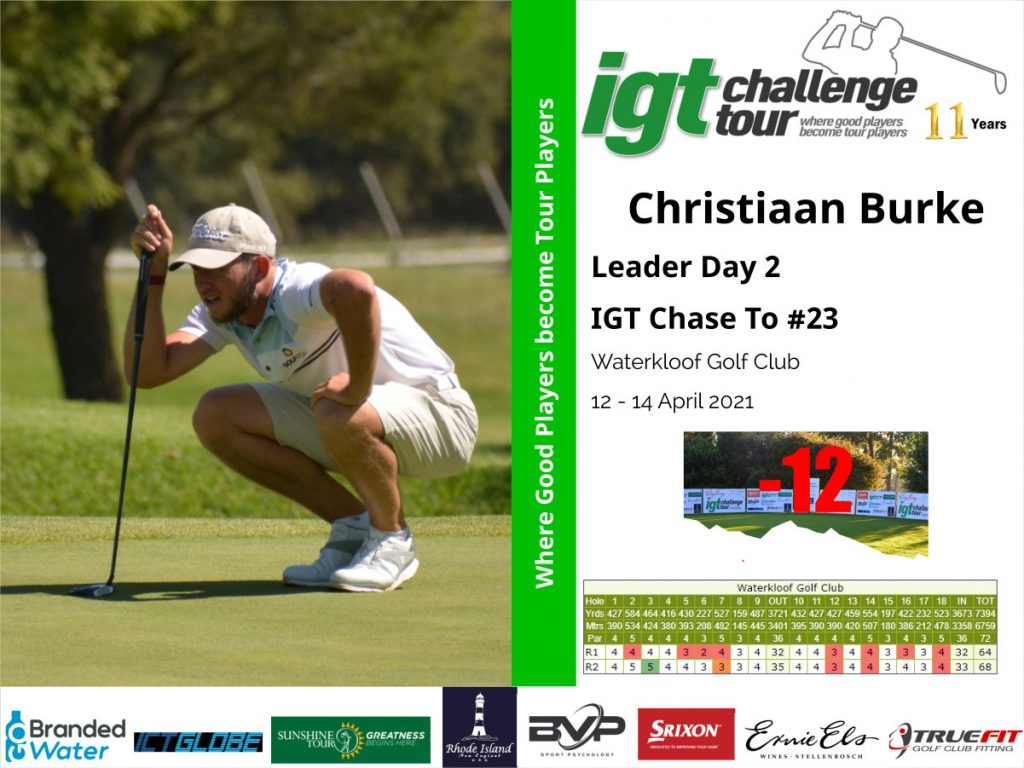 13th April 2021 | Big Easy IGT Golf
Stern test ahead as Burke eyes breakthrough win
PRETORIA, April 13– The last two Big Easy IGT Tour events played at Waterkloof Golf Club this season saw amateur Christiaan Burke finish T2 and T11, respectively, and as he heads into the final round of this week's Chase To #23 in the capital, there's a lot he'll want to make up for.
Burke fired in a 68 on day two to back up his opening round of 64 to take his total to 12-under-par after 36 holes. He ties that score with local man Quintin Wilsnach, who is a member here and whose knowledge of the layout came to good effect on moving day.
Back in September last year when golf had just been allowed to get back out on the fairways rather than live on virtual platforms, the fifth event on the IGT Chase To the Sunshine Tour was held at Waterkloof, Burke who is a member of GolfRSA's Elite squad was among the trio of players which narrowly lost out to Albert Venter that week.
Burke closed with a 68 that week to back his opening two rounds of 68 and 70 and his total for the week was a significant 10-under, a score he would tie with Nikhil Rama and Vaughn Van Deventer. It was not enough to stop Venter from walking away with a one-stroke victory. Again, at IGT Chase To #11 at the same venue, his tournament total of six-under to finish in a share of 11th was some long way off Ryan Van Velzen's winning total of 19-under.
"Today was a good day again," he said, "I'm happy with how I played today. The wind started to pick up again around the last few holes but I just stuck to my game. I'm excited for tomorrow, I mean, I've come second three times on the IGT and Big Easy Tours, so I'm gonna give it my all to get the breakthrough on the Tour."
Wilsnach's knowledge of his home course was visible to see on Tuesday as he skillfully navigated his way to a six-under-par 66 round. That effort catapulted him to a share of the lead, two shots clear of the chasing Sunshine Tour professional, Heinrich Bruiners. Wilsnach will want to win this one, especially since it's at his home course but Bruiners hasn't tasted victory in a while, too, and he will be eyeing a confidence booster ahead of the Limpopo Championship.
"I just tell myself that it's just another round of golf; focus on my own game and just enjoy it," says Burke as he braces himself for the challenge. While his last two outings here did not yield a victory, Burke knows that the final round of this 54-hole event not only presents him with an opportunity to correct the errors of his last two outings here but an opportunity to finally get that elusive Tour victory.
Latest Big Easy IGT Golf News