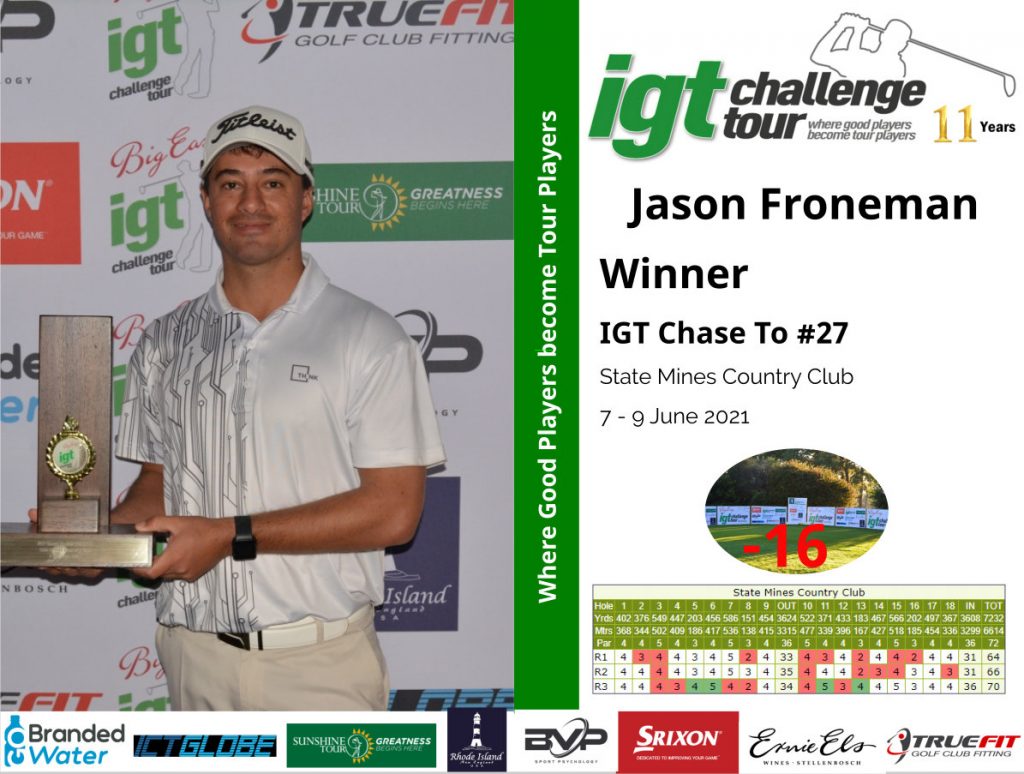 9th June 2021 | Big Easy IGT Golf
Froneman takes State Mines title in 3-way play-off
BRAKPAN, June 9 – Jason Froneman took his second play-off win of the Big Easy IGT Challenge Tour season on Wednesday when he won the Chase to the Sunshine Tour #27 at Crown Mines Golf Club on the first hole of a three-way sudden-death shootout.
Froneman carded a two-under 70 in regulation play in the final round, and that gave him a share of the lead with amateur Warwick Purchase and Adriel Poonan. Purchase had rocketed into contention with his closing 10-under 62, while Poonan had closed with a 66.
"There are easier ways to win a tournament," laughed Froneman afterwards. "It was pretty nerve-wracking, but I drew on my memories of my play-off win at Silverlakes."
In the end, as the three players came down the 18th for the second time on the final day, Froneman managed to get up and down for his par, while Purchase and Poonan both missed their par putts to give Froneman the win which he had been anticipating after taking the 36-hole lead.
What was a four-stroke lead finished up with the play-off, largely thanks to the four bogeys Froneman made during the final round after having gone bogey-free for the entire first two rounds. He started well enough with birdies on three and four, but he dropped both those shots immediately on five and six.
Five more birdies between the seventh and the 12th were largely nullified by two more bogeys on 11 and 13, but he kept things together to come home from there in level-par and force the play-off.
"I was a little nervous during the final round," said Froneman, "and I definitely felt the pressure. I was frustrated with what I was doing, making those bogeys. It was unfortunate, but everyone was making bogeys, so I just stuck to my task. Fortunately, I was putting well."
Behind Purchase and Poonan, State Mines local Casey Jarvis also battled to get things going in the final round as he signed for a four-under-par 68 which was only enough for a solid fourth-place. Four players – Makhetha Mazibuko, amateur Samuel Simpson, Sweden's Fredrik From and Kyle McClatchie finished in a share of fifth, four shots off the lead.
For Froneman, the victory gives him a much-needed boost in his quest to regain his Sunshine Tour card. "My golf is in a good space right now," he said. "I need to keep inside the top three of this series to get my card, and, to do that, I need to make sure I can finish things off when they get tight like they did today."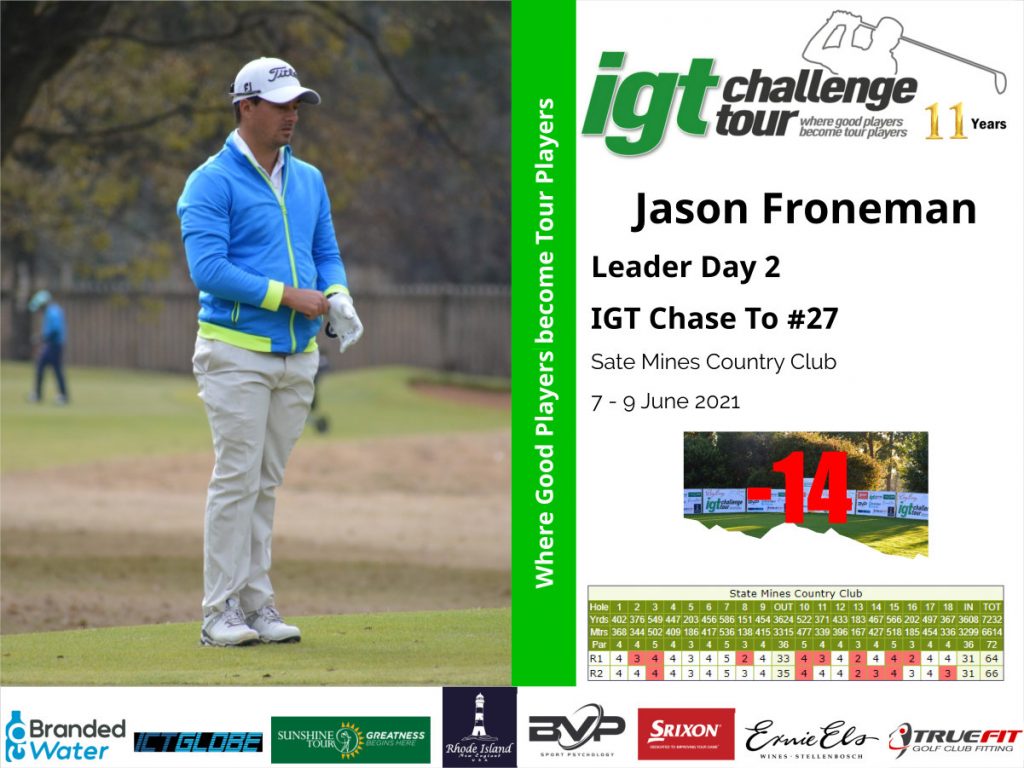 8th June 2021 | Big Easy IGT Golf
Froneman stays bogey-free to lead at State Mines
BRAKPAN, June 8 – Jason Froneman carded his second successive bogey-free round on Tuesday as he signed for a six-under-par 66 and a four-stroke lead after the second round of the Big Easy IGT Chase to the Sunshine Tour #27 at State Mines Golf Club.
He made five birdies on his opening nine after starting on the 10th, and then picked up one more on his way home as he took a four-stroke edge over local amateur Casey Jarvis and professionals Adriel Poonan and Rupert Kaminski. Jarvis carded a two-under 70, Poonan and four-under 68 and Kaminski handed in a six-under 66 of his own.
"Everything feels as if it's coming together," said Froneman. "My first nine was very satisfying. I was hitting it close, and I was making putts. It wasn't quite as good on my second nine, but to keep any bogeys off my card feels very special."
He got straight into things with a birdie on the 10th, and then he made three in succession from the 13th to the 15th. One more at the turn at 18, and then he picked up his sixth on the third. It was all pars from there, but it gives him that crucial edge going into the final round over Jarvis in particular.
State Mines is Jarvis' home club, and, as he did with his opening 64, he can go low there. It wasn't quite as easy for him in his second round, with two birdies and a bogey on the opening nine. It was more of the same on the homeward nine, but when a player knows the course as well as Jarvis does, it's easy to ride a wave of good luck and good play and chase down a big lead.
Kaminski made two bogeys in his 66, and Poonan one in his 68. At 10-under, they are one shot clear of six players on nine-under, including pros Kyle McClatchie and Fredrik From of Sweden, both of whom are also capable of going low in the final round.
For Froneman, the knowledge that he is putting so well will serve him well as he attempts to ward off any challenges. "I'm rolling the ball really well," he said, "and it feels as if I am putting better than I ever have."
If you drive for show, and putt for dough, then Froneman is in a good place for the final round.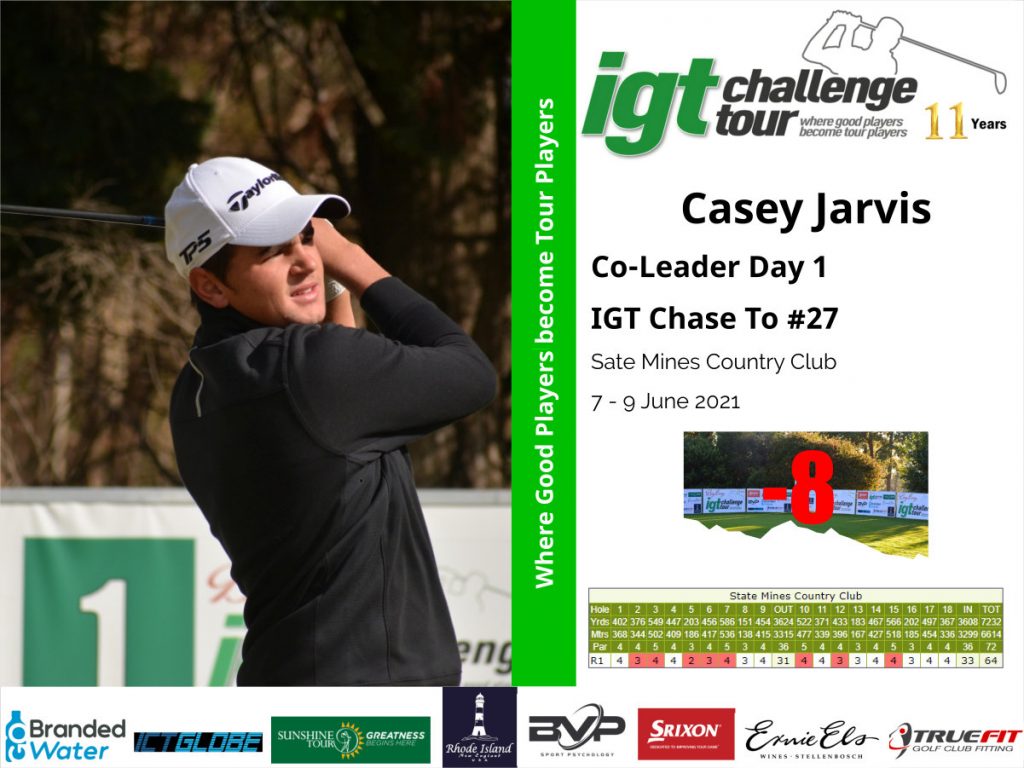 7th June 2021 | Big Easy IGT Golf
Jarvis cruises round State Mines home to share early lead
BRAKPAN, June 7 – He hasn't played his home course much recently, but Casey Jarvis had more than enough memory in reserve in the opening round of the Big Easy IGT Challenge Tour's Chase to the Sunshine Tour #27 on Friday to go bogey-free and grab a share of the lead.
The top amateur carded an eight-under-par 64 to take up the top position on the leaderboard together with professional Jason Froneman, who was also bogey-free. The pair had a two-stroke lead over Adriel Poonan, while amateurs Christiaan Burke and Donavan Liddicoat and professionals Makhetha Mazibuko and Fredrik From of Sweden shared fourth on five-under.
"I really know this place so well," said Jarvis. "So even though I have been playing a lot of other tournaments recently, I'm comfortable with what lines to take off the tees, and I know exactly where to miss it if I am going to miss it."
Jarvis laid down his marker with his opening nine, going round in five-under 31. He made birdies on two and three, and then reeled off three in a row from the fifth to the seventh. After the turn, things were a little less dramatic, but he picked up strokes on 10, 12 and 15 to come home in 33.
With birdies on all the par-fives, it really is a question of picking up whatever other opportunities come his way. "I'm hitting the ball really well at the moment," said Jarvis. "My putting hasn't been too great recently, but I putted well today, so I was pleased with that."
Froneman got things going early on with birdies on the second and third. He picked up another shot on the eighth to turn in three-under 33, and then he really turned it on during the homeward nine. He made birdies on 10 and 11, and then picked up three more on 13, 15 and 16 to come home in 31.
Jarvis has won three times this season on the circuit, and, in 12 tournaments, his worst finish is 13th. Every other time, he has finished inside the top 10. "I'm playing for tournament experience," he says. "I'll just keep doing what I'm doing, and I hope that I get another good result after 54 holes." Don't bet against him.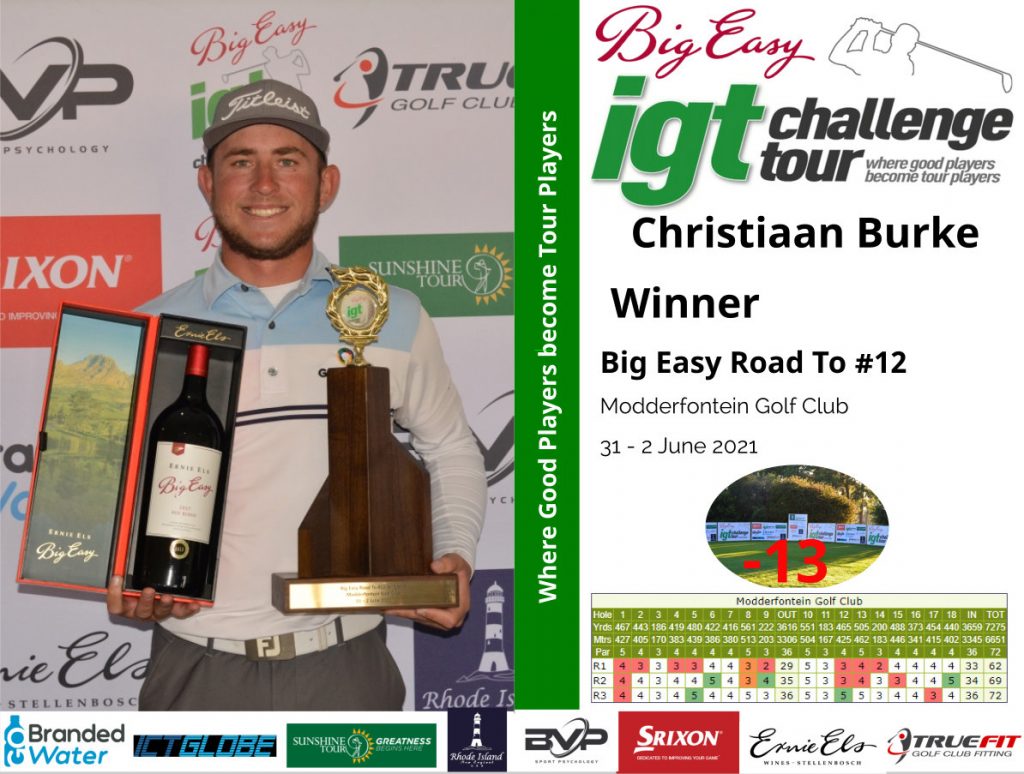 2nd June 2021 | Big Easy IGT Golf
Burke works hard for his breakthrough win at Modderfontein
MODDERFONTEIN, June 2– Christiaan Burke said the final round of the Big Easy Tour Road To Sunshine Tour #12 was tougher than the first two but the hard work he put in and the pain endured was all worth it after he emerged a three-shot victor on Wednesday.
"Today was tougher than the previous two days," said the GolfRSA National Squad member after his even-par final round. "It was cold and the pin positions were a little trickier. But it's great to finally win. I've been working hard to get this win and it finally came, so I'm really happy about it."
He was two strokes ahead of the pack – led by Ryan Van Velzen at 11-under – when the final round teed off. A birdie on the first got him going, picking up pars in the next four holes as birdies proved hard to come by.A bogey on the fifth got him back to level-par as the back nine beckoned for Burke.
He steadied himself after that drop and made six straight pars in what was a strong attempt at keeping the big numbers at bay. Another drop, this time on 12, threatened to turn his round upside down but the Potchefstroom Golf Club amateur stood strong, birdieing the 17th for an even-par final round and his maiden Big Easy Tour title."
I just told myself to hit as many fairways and greens as I can," Burke revealed, "and I just thought I needed to maintain my confidence and try not to make silly mistakes. It was great to get it done because now it gives me confidence to know that I can compete on higher levels of the games."
Burke joins a sparkling list of GolfRSA squad members who are shining and claiming titles on both the Big Easy Tour and the IGT Challenge, including Casey Jarvis and Christiaan Maas among others.
Van Velzen will be disappointed at not having added another trophy to his already glittering cabinet this season, having won numerous times already this season. Tied for second with Makhetha Mazibuko at 10-under-par for the week, Van Velzen will know how close he came and will want to go one better next time.
Since his win at the Rustenburg Legends Pro-Am on May 15, Makhetha Mazibuko has shown glimpses of the form which had many pundits tout him as one for the future in seasons gone by, and knowing that he lost out only by three shots will have him looking forward to the next challenge.
Keelan Van Wyk took solo fourth at nine-under with the trio of Dylan Kok, Luan Boshoff and amateur Adam Breen sharing fifth at eight-under-par.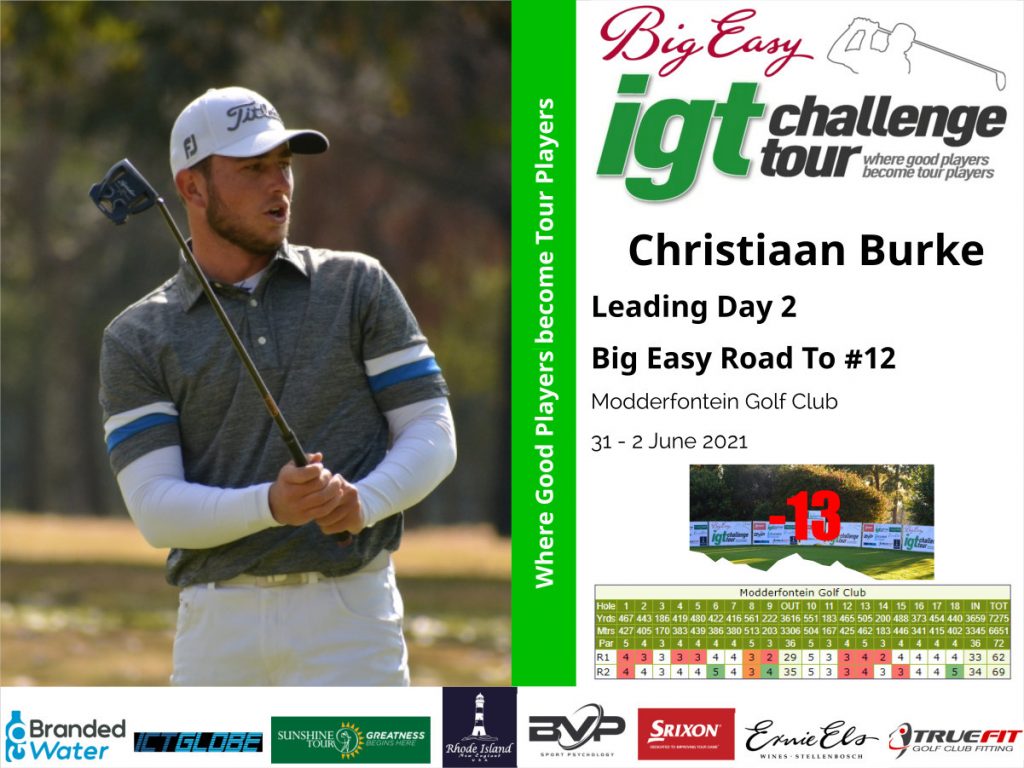 1st June 2021 | Big Easy IGT Golf
Burke maintains Modderfontein lead with second-round 69
MODDERFONTEIN, June 1– Christiaan Burke maintained a two-stroke lead in the Big Easy Tour Road To Sunshine Tour #12 thanks to his three-under-par 69 which took his total to 13-under-par for the week at Modderfontein Golf Club on Tuesday.
Following a sparkling 10-under 62 in testing conditions on day one, Burke knew he had to work extremely hard to replicate that opening round and while he knew that achieving the same score would be difficult, any decent score would still see him in contention in the final round on Wednesday.
"The start of the round, the weather was quite nice with a little bit of wind," Burke noted, "but when we hit the back nine, the wind started to pick up and made it a bit difficult. I hit the ball really well today and most of the birdies I made today were quite close to the hole. But a couple of three-putts cost me and led to drops on some of the holes."
A birdie on the first hole was followed by four straight pars and a bogey, as Burke struggled to reproduce the magic of the first round. But a hole later, on the eighth and just as he had done on day one, Burke made serious gains there, making his second eagle in two days on that hole. A bogey followed.
"I hit a good drive left edge of the fairway and had 183 meters to the flag," he said of his eagle on eight, "from there I hit a good 7-iron to two feet and boxed the putt. I was not too worried about what was happening with Ryan (Van Velzen), I just told myself to play my own game and see how low I can go today."
Burke pulled himself together after the turn, making two pars before going birdie, birdie, par and birdie in what was a healthy run of birdies. Then on the last, he dropped once more to sign for a 69.
Van Velzen produced a bogey-free 67 to get to a tournament total of 11-under, giving himself a great opportunity to charge for the top in the final round.
A four-under-par 68 catapulted Makhetha Mazibuko to solo third at nine-under for the tournament and just four strokes off the lead while Bradley Diggeden is fourth on the leaderboard at seven-under for the week.
Dylan Kok, Keelan Van Wyk and amateur Sam McKenzielie in a share of fifth at six-under-par and seven shots adrift.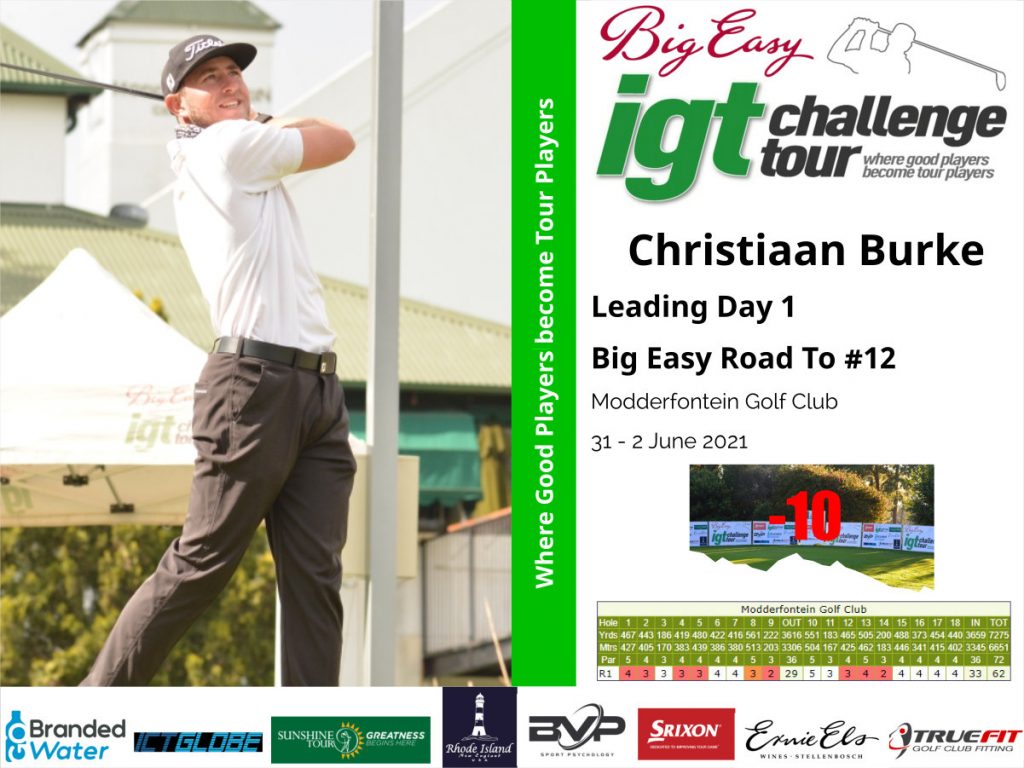 31st May 2021 | Big Easy IGT Golf
Bogey-free Burke surges to Modderfontein lead
MODDERFONTEIN, May 31– Amateur Christiaan Burke made eight birdies and an eagle on his way to an untainted round of 62 on day of the Big Easy Tour Road To the Sunshine Tour #12 in testing conditions at Modderfontein Golf Club.
Gusting winds and cold weather conspired to unsettle even the most skilled of golfers but the man from Potchesftroom had a different idea on Monday as he surged to a 10-under-par 62 round which gave him a four-shot lead over Ryan Van Velzen.
"The cold and the wind made it quite tough out there today," Burke noted after his round, "Modderfontein is one of the most difficult courses in Joburg for me but if you hit the ball well you can score. I turned three-under-par on the back nine and I told myself just be patient and focus on the last nine holes."
He had made three birdies on the back where he teed off today – on 12, 13 and 14 – and four straight pars followed as he turned in 29 and bogey-free. Birdies on the first and second which were Burke's 10th and 11th holes, respectively, got onto his scorecard. Feeling the confidence and the momentum at this point, Burke continued his fine display of brilliant golf; birdieing both the fourth and fifth holes of the golf course, his 13th and 14th.
A strong finish by Burke was characterised by an eagle on his 17th hole and a birdie to seal a sparkling round of golf in difficult weather conditions.
"The mind definitely plays a role," he said of the challenging weather, "because everyone is playing in the same weather. So, you just need to accept that and try to give it your all.
"I played well today; made good birdies on one, two, four and five. So, the momentum was there and then on the eighth, I hit it middle fairway where I had 240 metres in, and I just hit a 3-iron to 15-feet and drained the eagle-putt."
Burke leads by four but the man trailing is no stranger to chasing. Van Velzen already has Big Easy Tour titles to his name and after an eventful round of 66, he will not be too concerned with Burke's position atop the leaderboard. With 36 more holes to play, the recently-turned-pro Van Velzen will want a strong showing on day two in order to give himself a chance at victory and continue his climb up the Order of Merit where he lies eighth and outside of the top six players who will be eligible for Sunshine Tour cards at the end of the season.
Bradley Diggeden's fine form continues and he shares the third spot with a resurgent Makhetha Mazibuko at five-under and five strokes off the lead while amateur Sam McKenzie takes solo fifth at four-under 68.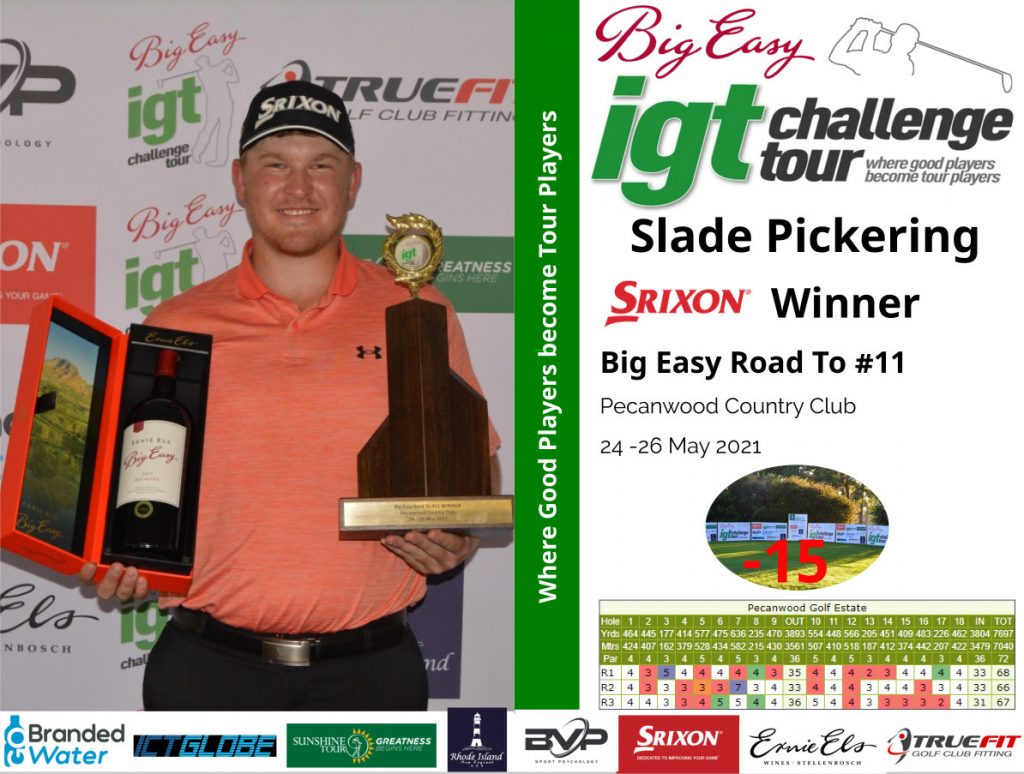 26th May 2021 | Big Easy IGT Golf
Pickering powers to Pecanwood victory
BRITS, May 24 – A bogey-free five-under-par on the back nine ensured that amateur Slade Pickering claimed his maiden Big Easy Tour title on a tournament total of 15-under-par and one shot clear at Pecanwood Country Club on Wednesday.
"I had a really slow start to the round," said Pickering, "then after hole 11, I told myself that I have to start doing something. Then, on the 14th, I chipped in for birdie and that changed my whole demeanour. Then it was all guns blazing from there.
"My driver had helped me this whole week; knowing that I won't be missing a fairway and that gave me confidence one the back nine to give it all that I have."
His front nine was characterised by birdies on four and five but those were cancelled out by the bogeys Pickering made on six and eight. But it was on the back nine that Pickering made his move.
Three pars after the par gave him confidence as he didn't give any shot away in that stretch, and then a birdie on the par-five 12 made it onto his card to give him more confidence while helping a great deal with his scorecard in relation to the rest of the field.
He then made four birdies on the trot, from 14 to 17 as Pickering went for his maiden title on this tour.
"I have won an IGT before at Kyalami," Pickering noted, "but this is my first Big Easy Tour win. My plans are to play amateur for the rest of the year and get my Springbok colours. Then, I will try and Pre-Qualify for the Asian Tour and start my golfing career from there."
Fellow amateur, Otto Van Buynder, had a solid week but his final round of 69 left him a short off a playoff spot and at 14-under-par for the week, his total was just not enough this week. Sunshine Tour campaigners James Kamte, Jason Smith and Quintin Wilsnach shared the third spot after finishing the tournament on a total of 12-under-par.
A fast start by Hayden Griffiths yielded a final round of 68 but that was not enough to see him cause any significant problems and along with Rupert Kaminski, they had to settle for a share of sixth at 11-under. Overnight leader, Ernest Ludick, finished in a share of eighth alongside Jason Froneman, at 10-under for the week.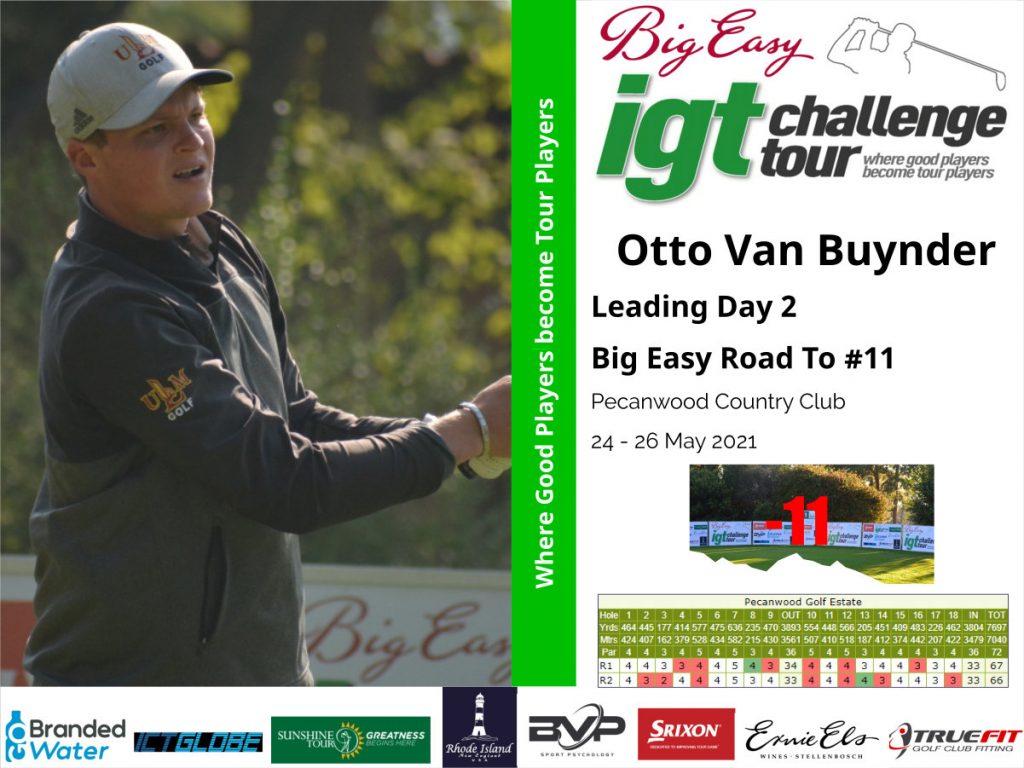 25th May 2021 | Big Easy IGT Golf
Van Buynder in slim lead at Pecanwood
BRITS, May 25 – A bogey-free front nine of 33 formed a solid foundation for a second-round 66 which catapulted amateur Otto Van Buynder to the top of the leaderboard in the Big Easy Tour Road To #11, one shot clear at Pecanwood Country Club.
Trailing by four at the start of the second round, Van Buynder was among those who would have felt they had every chance of taking the top spot following beautiful weather conditions which allowed for low scoring in round one. The second round was not different as the low scores kept trickling in. For his part, Van Buynder birdied the first two holes of the golf course and then made par on the next. He followed that up with a birdie on the fourth and gave nothing away as he went on to turn in 33.
"It feels great to see my name on top of the leaderboard," said Van Buynder, "but I still have to go out tomorrow and play better than the rest of the field. I played my par-fives three-under today and I was steady the whole day. My birdie on three was a nice touch and the putter helped me immensely through both rounds."
More solid golf saw him walk away with a birdie on the tough par-five 10th, and two pars later, another birdie got onto his card. An error on 13 saw his surrender a shot there but that drop wasn't enough to demoralise him as he recovered with a birdie on the next hole. He was happy to walk away with pars for the next three holes before closing off with another birdie which helped him unseat fellow amateur Ernest Ludick from the summit on a tournament total of 11-under.
"It is going to be a fun group tomorrow and I will see how everything goes," said Van Bynder, "but I have my own game to play. All I need to do is to keep doing what I have been doing and I will be fine."
Tied for the second spot and just a single stroke adrift, Ludick, Rupert Kaminski and amateur Slade Pickering will look forward to the final round, knowing any error on Van Buynder's part could mean an opportunity. Kaminski has come close to winning on this circuit this season and he will want nothing but victory on Wednesday.
Occupying solo fifth at eight-under-par after 36 holes is Quintin Wilsnach who, like many in this field, has everything it takes to overturn a slim lead such as the one Van Buynder holds going into the final round. Trailing by three, Wilsnach knows he is in contention for the title and will not be easily shrugged off.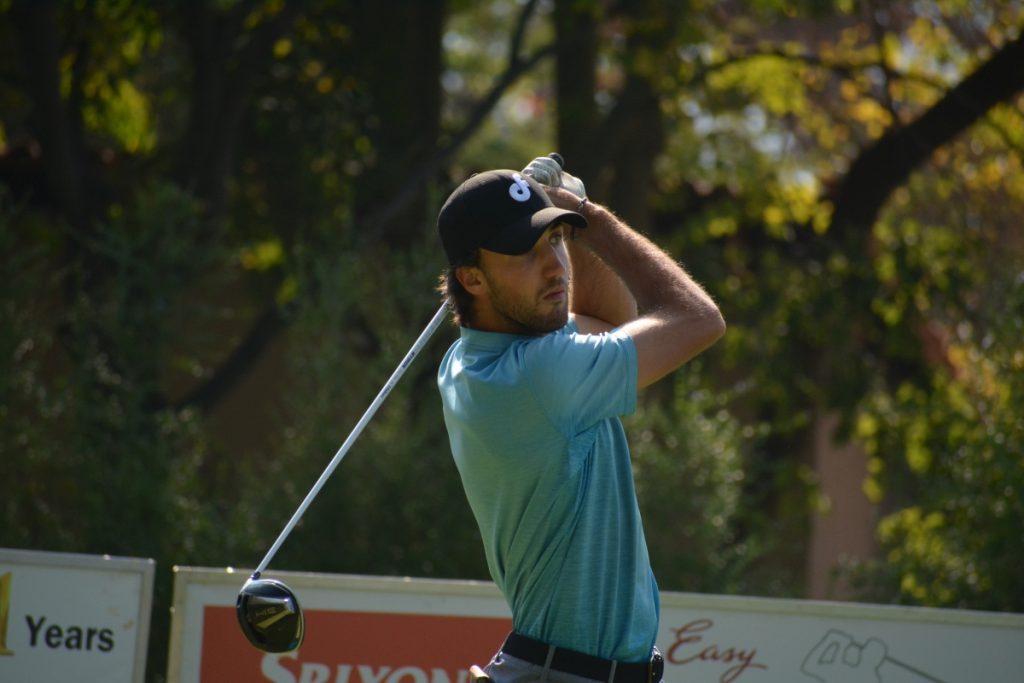 24th May 2021 | Big Easy IGT Golf
Ludick's birdie blitz hands him Pecanwood lead
BRITS, May 24 – A run of six birdies on his last 10 holes helped amateur Ernest Ludick to a three-shot lead after an opening nine-under-63 on day one of the Big Easy IGT Challenge Tour Road to the Sunshine Tour #11 at Pecanwood Country Club on Monday.
He opened with a birdie but gave that shot away on the next hole. That drop seemed to have sparked something in him as he birdied the next three holes to go three-under after five holes. A birdie on the ninth sparked yet another run of birdies for Ludick as it marked the beginning of a five-birdie run to get to eight-under-par with five holes to play. Four straight pars followed, as he sought to consolidate an-already-brilliant score. One more birdie on the last sealed beautiful round of golf for Ludick and saw him to the summit of the leaderboard.
"Today was a really good day out; the conditions were amazing and it was just a lovely day for golf," said Ludick after his round. "The wind did pick up a bit but it didn't affect the golf ball too much. My five-birdie run was really good for my round. I was just hitting them close and I made a few putts."
Trailing by three after a solid round of golf, Braddley Diggeden will rue the double-bogey he made on the par-five seventh. Up until that point, he was three-under-par and had he saved par there, the two birdies he made after that could have helped him a great deal. A true professional and competitive athlete, Diggeden stuck to his plan and made gains after the turn, picking up a birdie there.
Another birdie on the next par-five hole – the 12th – followed. Three pars later, Diggeden made another birdie to seal an inspired round of 66.
"The second round will be the same," Ludick said, knowing how close Diggeden is to unseating him from the top. I have to stick to my process and do what I have been doing. I've worked really hard and hopefully, things can keep going the way they are going."
In a share of third after respective rounds of 67s Gerhard du Plooy, Rupert Kaminski, Luan Boshoff and amateur Otto van Buynder will fancy their chances for the top spot ahead of moving day.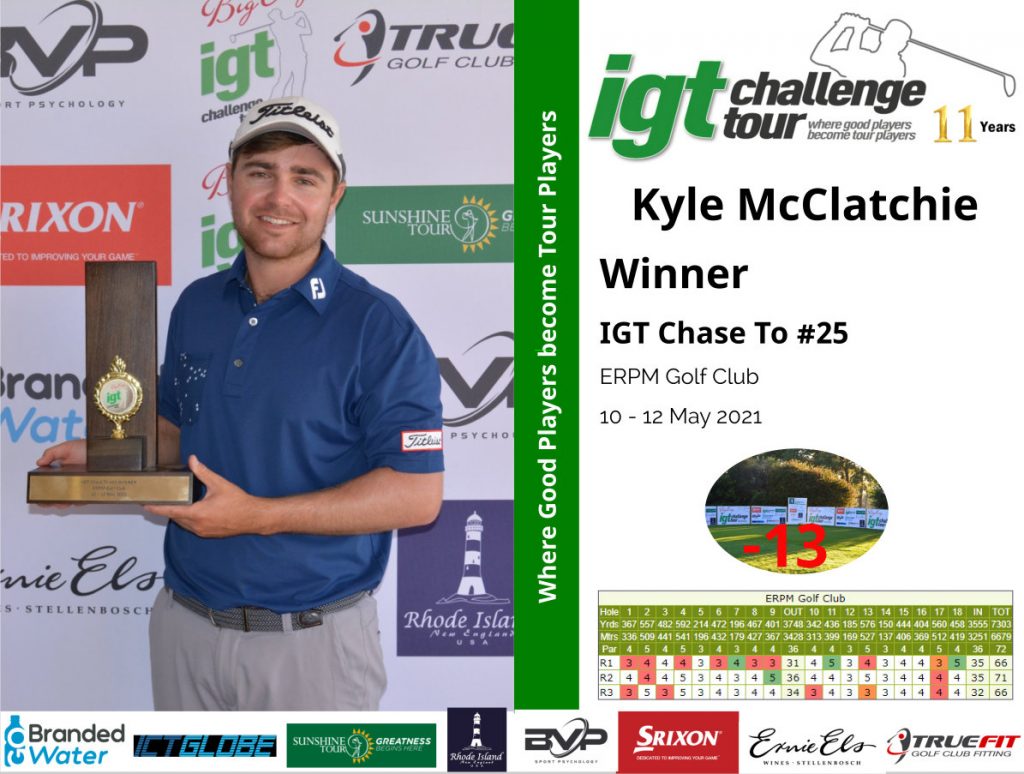 12th May 2021 | Big Easy IGT Golf
McClatchie goes top of Chase To Sunshine Tour standings with ERPM win
BOKSBURG, MAY 12 – Former GolfRSA squad member Kyle McClatchie became the third graduate of that developmental structure to win a professional tournament this week after his play-off victory in the Big Easy IGT Chase To the Sunshine Tour #25 handed him his third win of the season on Wednesday.
With Garrick Higgo claiming his win in the Canary Island on the European Tour and Wilco Nienaber getting his breakthrough win on the Sunshine Tour and Challenge Tour, McClatchie's win is a pleasing sight to those who have vested interests in GolfRSA and its work.
He had labored to a one-under 71 on day two in an attempt to back up his brilliant opening round of 66 which saw him tied for the lead on day one in Boksburg –resulting in the resurgent Ricky Hendler snatching the lead at 11-under, followed by Casey Jarvis at 10-under while Ryan Van Velzen played himself to solo third at nine-under. McClatchie was four shots off the pace at the start of the final round.
Knowing he had some ground to cover, McClatchie got to work; birdieing the first and third holes and giving nothing away in a bogey-free front nine. A birdie on 10th showed signs of a man patiently waiting for his opportunities in a very competitive environment. That patience paid off once more, on the par-five 13th, where McClatchie made an eagle and pushed himself into contention. He made another birdie on 17 to seal a sparkling round and force himself into a playoff with Van Velzen who also finished at 13-under-par 203 in regulation.
"Yesterday wasn't my best," he admitted, "but I did some work with the coach and that got me back on track. Throughout the day, I just stuck to my ways and didn't look for too many leaderboards because that wasn't going to change what I was trying to do out there."
That level of focus landed him in a two-man playoff with Van Velzen who turned pro recently and has already tasted victory as a pro – albeit on another circuit – and McClatchie won it in the third playoff hole.
"It's always nice to win in a playoff; a little nerve-wracking but nice. After the third time, Ryan made a mistake and I capitalised, that's golf. It was a good week and I'm pleased with the way I played and the results. It shows that all my hard work is paying off. I just want to keep going and try to win more and play as best as I possibly can. That's the goal."
With this win, McClatchie has now moved to the summit of the Chase To the Sunshine Tour standings as the season is drawing to its inevitable end.
Latest Big Easy IGT Golf News