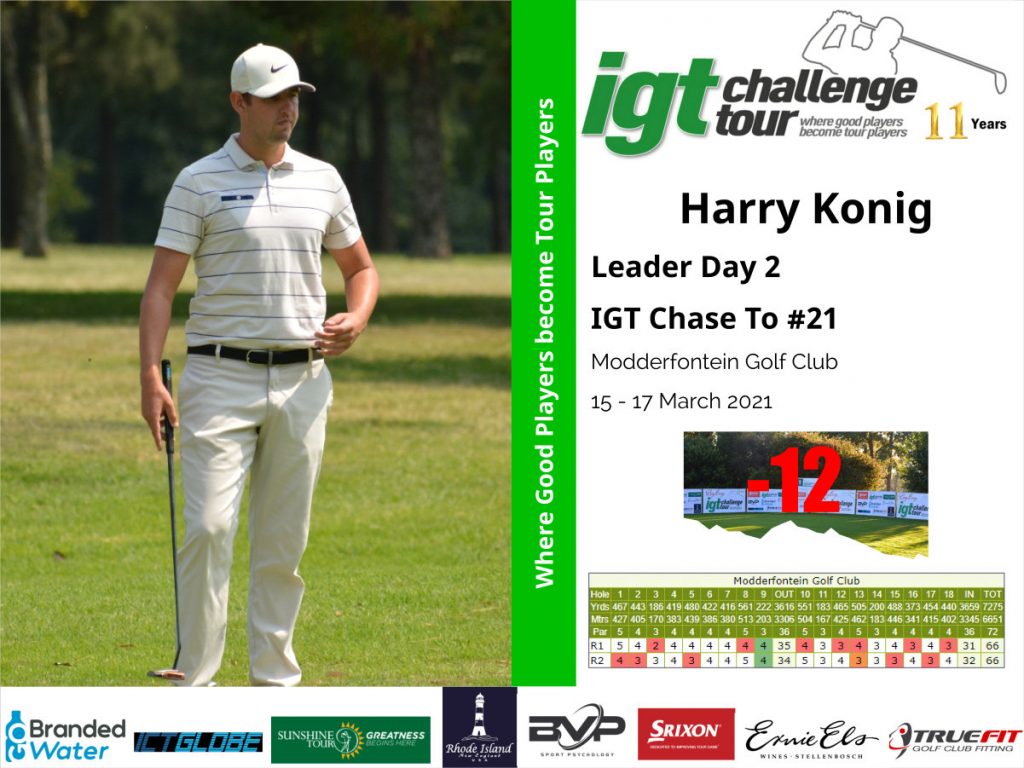 16th March 2021 | Big Easy IGT Golf
Slim lead for Konig at Modderfontein
MODDERFONTEIN, March 16 – England's Harry Konig signed for a second 66 in succession in the Big Easy IGT Tour Chase To #21 at Modderfontein Golf Club to find himself one ahead of the Keelan Van Wyk and Ricky Hendler ahead of the final round.
"It feels great to see the English flag top of the leaderboard," Konig mused after his round, "mentally I've been really good at staying patient. Both days I've not holed much until the back nine so keeping the belief that they're gonna drop has been crucial. I've hit it solid and given myself lots of chances"
At 12-under-par this week, the Englishman has been in great form.
Koning opened with two birdies back-to-back before finding more joy with another birdie on the fifth. He held things steady from there on, making pars in the next three holes before making a drop on the ninth, just as he had done in round one.
Again, Koning settled himself and was happy to walk away with pars from 10 to the 12th before a game-changing eagle got onto his card. That was followed by a birdie on 15, and then by another on 17 for a six-under-par second round for a one-shot lead.
"The course has been awesome," he added. "The greens have probably been the best we've putted on this year and they can be pretty quick in places. So, I am looking forward to a good battle tomorrow with the lads. There's always pressure when you're in contention but I've been playing well for a while now and I'm loving being in contention."
Hendler and Van Wyk also showed great mettle as they carded a 67 each for a share of second and just a single stroke off Konig's lead.
Hendler produced a blemish-free round, characterised by four birdies on the front nine and a solitary birdie on the back. Van Wyk also signed for an untainted 67. Five shots adrift and in solo fourth lies the rejuvenated Jason Froneman on seven-under while Thanda Mavundla and Herman Loubser share fifth at six-under.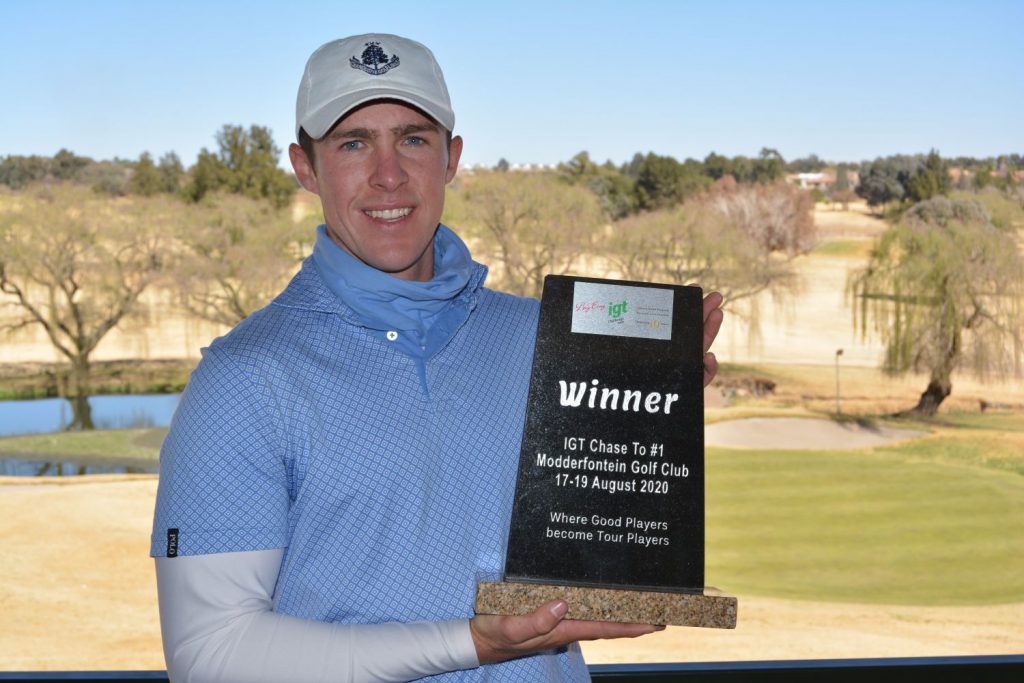 19th August 2020 | Big Easy IGT Golf
Ellis-Cole goes wire-to-wire for maiden IGT win
MODDERFONTEIN, August 19 – Angus Ellis-Cole's final-round one-over-par 73 was enough to earn him a wire-to-wire maiden Big Easy IGT Tour victory after golf's return to action following a six-month break due to the coronavirus pandemic that has struck the world.
Having shot an eventful five-under 67 on day one of golf's return, Ellis-Cole consolidated his lead with a level-par second round as the rest of the field struggled to make up ground following his spectacular opening round. He followed that up with a third-round 73 to win with five-shots on four-under-par.
"It was definitely not easy," said Ellis-Cole after his win at Modderfontein, "leading from the outset, I felt like I should just take it in baby steps and try to stay in the moment, which proved quite difficult at times. But I'm really chuffed with the results.
"This is my first win as a pro, my first win on the IGT Tour, so I'm just really happy to have gotten that done. Hopefully, it's one of the first steps I take when it comes to taking my career forward."
His round was characterised by a front nine which consisted of a birdie, a bogey and seven pars, and while he did his best to avoid big numbers on the card, and especially with the rest of the field not looking like a real threat at times, his struggles on the homeward stretch were over-shadowed by the five-shot margin he'd kept between himself and the field from day one.
"The biggest challenge with leading from the outset was making sure you don't get too far ahead of yourself too early," he said of what it took to hold on to a five-shot lead for each of the three rounds at Modderfontein, "it becomes a little bit of a challenge, especially when you're leading to stay in the moment and stay with each shot. That was what I fought with mostly in the final round. But I am very happy with the results."
Taking the second spot was budding amateur, Casey Jarvis, who at one-over-par, was the closest challenge for Ellis-Cole while the duo of Kyle McClatchie and Ryan Van Velzen, an amateur himself took up the third spot at three-over-par.
Results
212 – Angus Ellis-Cole (RSA) 67 72 73
217 – Casey Jarvis (AM) (RSA) 73 72 72
219 – Ryan Van Velzen (AM) (RSA) 77 71 71, Kyle McClatchie (RSA) 70 75 74
220 – Brandon Gildenhuys (RSA) 76 73 71, Yurav Premlall (AM) (RSA) 77 71 72
221 – Ryan Tipping (RSA) 74 70 77
222 – Danie Van Niekerk (RSA) 75 73 74, Jason Gilliver (AM) (RSA) 74 73 75, Michael-James Steyn (RSA) 77 70 75, Carlo Heunis (RSA) 78 73 71, Jason Froneman (RSA) 75 70 77
224 – Christiaan Burke (AM) (RSA) 75 74 75, Jancarel Rossouw (RSA) 73 74 77
225 – Casandra Hall (RSA) 73 76 76, Jade Buitendag (RSA) 77 74 74, Vaughn Van Deventer (RSA) 72 79 74, Matt Saulez (RSA) 73 73 79, Wayne Stroebel (RSA) 81 71 73, Leon Vorster (RSA) 78 74 73
226 – Liam Van Deventer (AM) (RSA) 74 75 77, Simon Du Plooy (AM) (RSA) 75 73 78, Herman Loubser (RSA) 74 74 78, Keelan Van Wyk (RSA) 75 76 75, Cameron Gurr (AM) (RSA) 72 80 74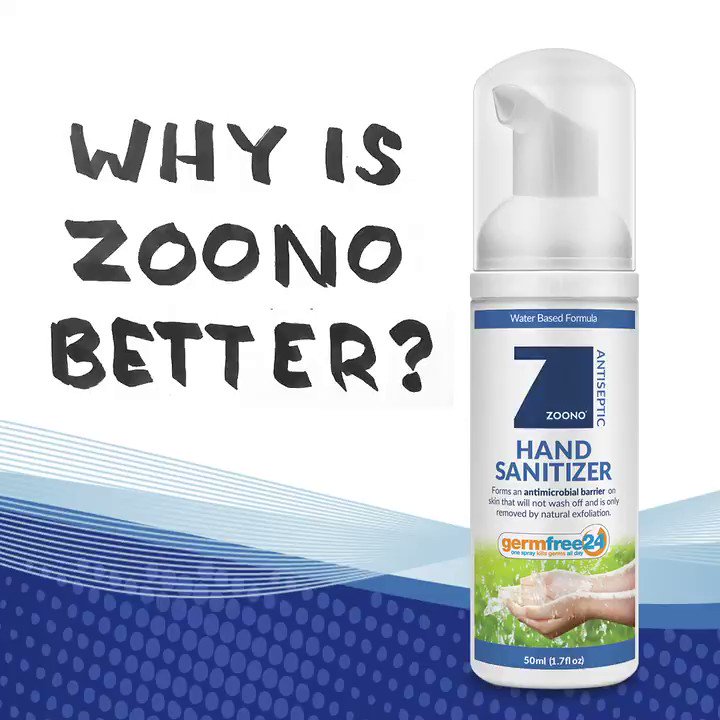 17th July 2020 | Big Easy IGT Golf
Zoono Germ Free 24
Protect yourself with Germ Free 24
Germ Free 24 keeps on doing it for up to 24 hours, no matter how
many times you wash or wipe your hands!
Order here
Sent email to info@mygolfsa.co.za requesting more info for Zoono
Product use
Germ Free 24
Person need 2ml per day Germ Free 24 to have 24 hours protection.
Zoono 500ml Spray
The Zoono 500ml spray can be used on any personal item that is exposed in the public i.e. golf clubs, golf bag, back pack, hand bag, clothing etc and you are protected 28 days.
Zoono
The long lasting antimicrobial solution

YOUR SECRET WEAPON
KEEPING CLIENTS AND STAFF
"GERM FREE"
The world's best kept antimicrobial secret
Original Technology developed for the US Navy to control the spread of microbial infections within the confined atmosphere of  nuclear submarines.
Zoono is a mechanical molecular device which destroys microbial cells by stabbing through the cell membrane and electrocuting the organism, with the same molecule capable of attacking new cells again and again.
Until the 1990's this cutting edge technology was literally a military secret.
Today it has been re-engineered into a water based solution which provides the antibacterial, antiviral, anti fungus and anti algae protection of a broad spectrum antimicrobial sanitizer that continuously kills for up to one month from each application.
How does Zoono Work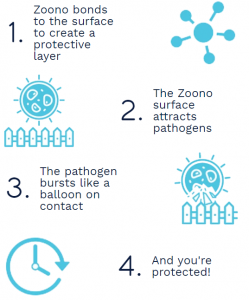 About Zoono
Zoono is a clear, colourless, anti bacterial solution containing a pure active in pure water
Available as:
Disinfectant solution – Zoonocide
Hand Sanitizer – GermFree24
Contains no chlorine and on microbial interaction will not produce halogenated by-products of disinfection such as carcinogenic trihalomathanes.
Application to surfaces produces an invisible, transparent and durable antimicrobial film that will not transfer on contact with other surfaces and  is no-leaching on contact with water or solvents.
Once applied, the bonded antimicrobial film is non-volatile, odourless, colourless and produces no chemical vapours.
Contains no thickeners, stabilizers, colorants, dyes, fragrances or additives.
Is non-toxic, non-mutagenic, non-teratogenic (will not harm a fetus) and non-allergenic.
Is safe for use with people, animals and plants.
Is non-oxidative
Safe for application to a wide variety of surfaces and materials including fabrics, carpet, upholstery, drapes, linens, wood, plastics, stone, porcelain and metals.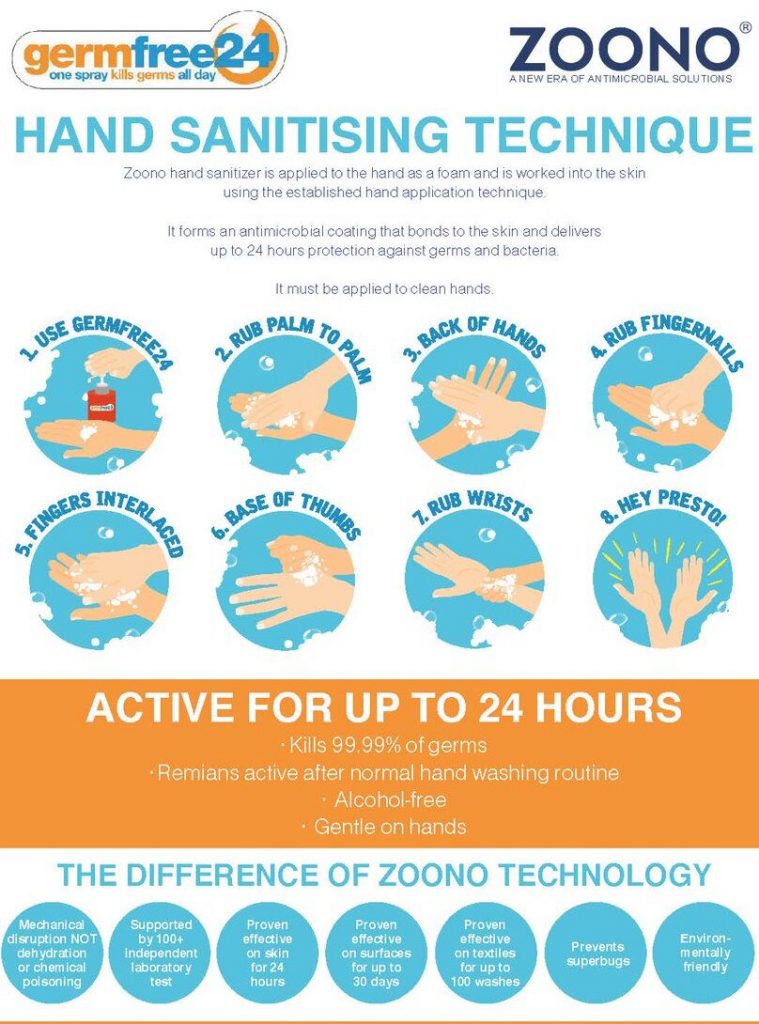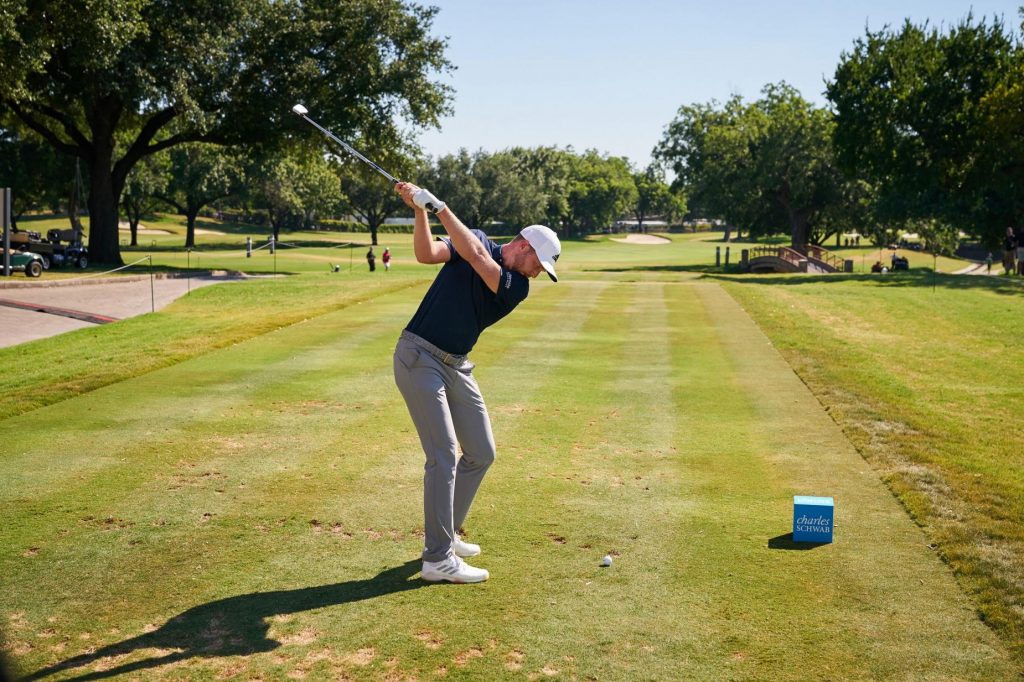 6th July 2020 | Big Easy IGT Golf
Berger Claims Colonial as PGA Tour Returns
Longshot Outduels Big Boys
The Charles Schwab Challenge is normally an unheralded stop along the PGA Tour but because it was the first tournament held after the COVID-19 hiatus, it could have been The Masters at Augusta for all of the attention it has been attracting. The field was expanded to accommodate the many golfers who wanted to grip it and rip it after three months on the shelf.
Many of the top guns who would normally spurn the CSC were more than happy to be there, but in the end, it was an unlikely hero who outdueled the likes of Rory McIlroy, Justin Thomas, Justin Rose, Jordan Spieth, and Jon Rahm to name a few of the household names. If you included Daniel Berger in your golf picksover the weekend then you were handsomely rewarded with a 60-1 shot.
Berger defeated Collin Morikawa in a playoff to seal the deal on his 15 under par performance but the No. 1 player in the world, Rory Mcllroy, predicted before the tournament that the Colonial course was going to be conquered wit[AF2] h a strategic performance and his remarks proved prescient, "Obviously it's not the longest course on Tour, but you really need to position your ball around the golf course very well," said McIlroy. "It reminds me of a few different places. I can sort of see a little bit of TPC Southwind in Memphis out there, a little bit of Valderrama in Spain, just really having to hit it in certain parts of the fairways and not taking on too much."
There were few who saw Berger in the winner's circle due to a field that was star-studded and packed with the best talent in the world, all convening at one unlikely event. However, upon closer inspection, we see that the 27-year-old FSU alumni notched his 28th consecutive round of par play or better when he finished with a 66 on Sunday.
Berger explained he was pleased that his recent streak of superb play had been overlooked entering the tournament, "I'm glad no one talks about it, because it's definitely harder to go out there and win when you're worried about it," he said. "There were so many times today where I could have given it up or let the pressure get to me, but I hung in there and I played practically some of the best golf I've played the last six years and the last five holes today."
Berger had to climb a mental hurdle when he realized a playoff would be necessary to determine a winner. He was 0-2 in playoffs over his pro career with losses to Padraig Harrington at the 2015 Honda Classic and Jordan Spieth at the 2017 Travelers Championship. "I mean, you just never really know if you're going to be in the same position again, so to be able to come out here and beat so many of the best players in the world, you look at the field that was out here this week, and I don't have a stellar playoff record," Berger said. "Obviously, I didn't want to win it like that, but sometimes that's just the way golf works."
DeChambeau Shocks the World
The physical transformation was startling and had the entire audience slack-jawed when they saw a pumped and jacked Bryson DeChambeau pulverizing his drives off the tee with 25-30 pounds of added muscle to his frame. The former SMU star led the field in driving distance with an average drive of 340 yards and tied for third at 14 under with Justin Rose, Jason Kokrak and Xander Schauffele.
DeChambeau was pleased with his performance but realized where he went ever so slightly wrong when he stated, "I had a good run late coming in, and unfortunately got hosed on 17, caught a jumper out of the first cut and was not expecting that and flew it too far," he said. "If I make the putts like I should have … I would have won by a lot this week."
The No. 1 golfer in the world, Rory McIlroy, had several humbling holes and tied for 32nd when the day was done, "I got off to a really bad start," McIlroy said. "Hit a loose second shot on the first hole up to the right and then sort of messed around and took bogey there, so not the ideal start. And then the wind was up today. You didn't have to be that much off for it to sort of show. … But (on the) front nine I just got into a rut and played a bad run of holes, and obviously, that put me out of the tournament."
---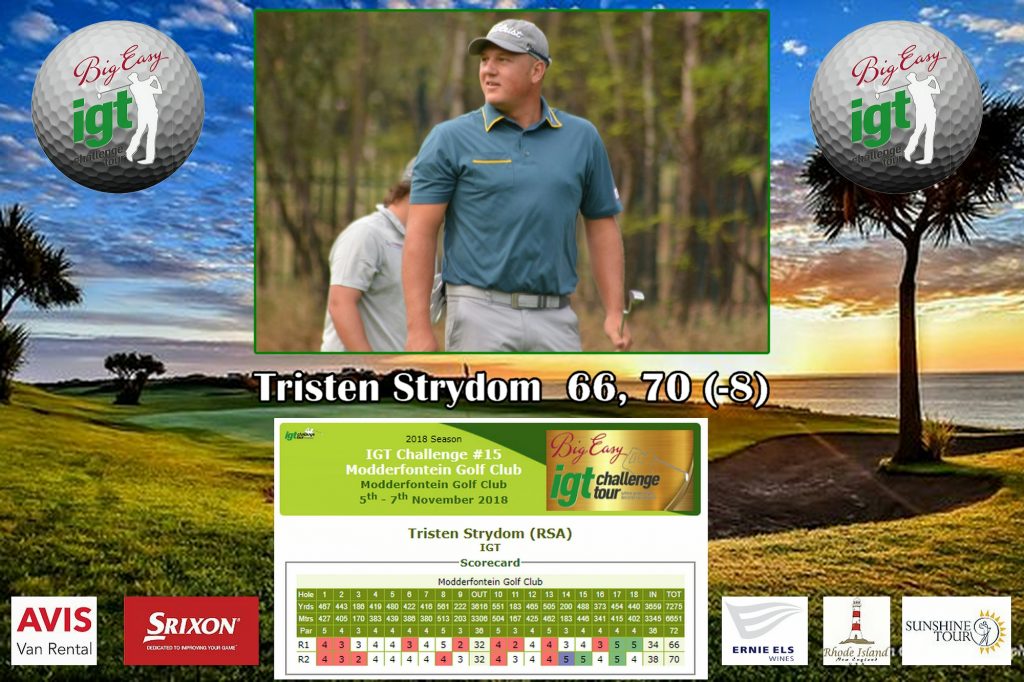 6th November 2018 | Big Easy IGT Golf
Trio ready to chase down Strydom in IGT Modderfontein
Trio ready to chase down Strydom in IGT Modderfontein
(PHOTOS – Tristen Strydom; credit CJ du Plooy)
MODDERFONTEIN, 6 November 2018 – His finish wasn't great, but his round was still good enough help Tristen Strydom maintain the overnight lead on six-under 138 in the IGT Challenge Tour #15 at Modderfontein Golf Club on Tuesday.
The Pretoria golfer squandered four shots in his last five holes for two-under 70 and will start the final round two shots clear of Lejan Lewthwaite, Bryce Myburgh and Herman Loubser.
Strydom was four clear on eight-under in the first round before he faltered with a bogey-bogey finish for a 66. The closing stretch proved to be his undoing once again. The 22-year-old started with three birdies on the bounce and was well clear of the chasing pack after further gains at eight, 10 and 13, but a double bogey at the short 14th and bogeys at 15 and 17 let the field back in.
Benched with ligament sprains in both his ankles for a couple of months, Strydom only returned to competitive golf last week, but a top 10 finish in the Big Easy IGT Challenge Tour #13 at Eagle Canyon was proof positive that the former number one ranked amateur is ready to do battle.
To bag his fifth title on the country's premier golf development circuit, Strydom will have to stave off challenges for the fierce threesome on his heels.
Lewthwaite, the first female winner on the IGT Challenge, backs herself to win again.
"I started a bit wobbly with two bogeys, but I kept my cool and I made a nice bounce-back birdie when I stuck my 6-iron stiff at the third," said the Benoni golfer. "I birdied the par five (eight) to get back to level par and birdied 10 to go two-under.
"Not much happened until I had a soft drop at 15, but I bounced back when I holed out with a gap-wedge for eagle at 16. The ball pitched six metres past the pin, spun back and dropped. I wasn't too happy about the drop at 17 where I missed a three-footer for par, but I made a clutch birdie at the 18th to finish two off the pace. It should be a great fight tomorrow and I ready for action."
Myburgh and Loubser are both still chasing that elusive maiden win on the IGT Challenge Tour.
Like Lewthwaite, Myburgh started the second round two shots behind Strydom. The Umhlali golfer, who plays out of Steyn City, fired six birdies to stay in touch with a two-under 70.
"Overall I was happy with my play today," said Myburgh. "I found that the wind picked up a little on my back nine and made it a little tricky. I played very solid throughout the round and without the four bogeys it could've been a very low one.
"I'm hitting the ball well and making a handful of putts. I haven't made any big mistakes over the two rounds and I feel that this is why I am up on the leaderboard with a chance to win. I had a silly three putt on my last, but still can't be too unhappy with an under par round. It should be a good final round as there are a bunch of good players that will be playing for the win and I look forward to it."
Loubser returned a four-under 68 that featured eight birdies – three from the first and four from 10.
"I've gotten off to a great start both days," said the Theewaterskloof golfer. "I started with three birdies in a row and then broke the momentum straight away with two bogeys and a double at six.
"It wasn't ideal, but I'm pretty confident at the moment, so I knew there were lots more birdies out there and I made four in a row from 10 to 13. I look forward to playing with Tristen in the final round. He's a good friend of mine and we played a lot of golf together as amateurs. It's been ages since I've last played with him. If I can keep those pesky bogeys to a minimum tomorrow, I should have a pretty decent chance. Can't wait."
Behind the trio in second, at least four players could also mount a challenge in the final round.
Ruan Korb is in good shape at five-under after carding a flawless 66. Andrew Carlsson and Gary Player School of 2018 member Allister de Kock both returned rounds of 67 move to four-under and join rookie Keaton Slatter, who signed for 71.
Second Round Scores
All competitors RSA unless otherwise specified and amateurs are indicated as AMA:
136 – Tristen Strydom 66 70
138 – Herman Loubser 70 68, Bryce Myburgh 68 70, Lejan Lewthwaite 68 70
139 – Ruan Korb 73 66
140 – Keaton Slatter 69 71, Andrew Carlsson 73 67, Allister de Kock 73 67
141 – DK Kim (KOR) 70 71, Dwayne Basson 69 72
142 – Gareth Sargent AMA 75 67, Thabang Simon 72 70, Christof Appel 72 70, Ruan Groenewald 72 70, Francesca Cuturi 70 72
143 – Dylan Mostert 76 67, Makhetha Mazibuko 71 72
144 – Musiwalo Nethunzwi 72 72, Michael Kok 74 70
145 – Thabiso Ngcobo 72 73, Jason Diab 72 73, Deon Bredenkamp 73 72
146 – Irvin Mazibuko 73 73, Derick Petersen 74 72, Michiel Bothma 75 71, Leon Vorster 76 70, Ivanna Samu 75 71
147 – Tristan Topka AMA 74 73, Jabulane Mabilane 72 75, Harry Konig (ENG) 75 72
148 – Blain Sansom 74 74, Patric Dowling AMA 76 72, Gerard du Plooy 73 75, Tiaan Diederiks 77 71
149 – Dennis Williams AMA 76 73, Ricki Dembo 75 74, Marcel Steyn Scholtz AMA 77 72, Dean du Plessis AMA 73 76, Catherine Lau 72 77
150 – Michael Pfeifer 76 74, Ryan Clarke 77 73, Fritz Orren 80 70, Liam Clinton AMA 75 75, Christopher van der Merwe AMA 74 76
151 – Mitchell Lightfoot 76 75, Lincon Cele 80 71, Cody White (CAN) 80 71
Missed the cut:-
152 – Ray Janse van Rensburg AMA 78 74
154 – Warric Dyers 78 76
155 – Jonathan George AMA 79 76, Henning du Plooy AMA 77 78
156 – Sipho Bujela 80 76, Aneurin Gounden AMA 78 78
157 – Liam Cloete AMA 79 78
158 – Kyle Murphy AMA 80 78, Adam Baker 84 74, Myburgh Viljoen AMA 78 80
160 – Kaylin Pillay AMA 83 77
161 – Divan de Villiers 82 79
162 – Altaaf Bux 78 84
163 – Jordan Parsons AMA 82 81
165 – Michael van Rooyen 84 81
169 – CJ Brits AMA 87 82
172 – Heinrich Prinsloo AMA 83 89
174 – Gerhard Henning AMA 93 81
175 – Jared Hall AMA 88 87
177 – Martin van Vuuren 84 93
181 – Hanro Booysen 95 86
193 – Phillip de Waal 100 93
Ends
Written and released by Lali Stander on behalf of the IGT Challenge Tour.

28th February 2018 | Big Easy IGT Golf
Fortune favours From in Race to Q-School Final
(PHOTO – Fredrik From with IGT Challenge Tour commissioner Cois du Plooy; credit CJ du Plooy)
RANDPARK, 28 February 2018 – Fredrik From powered to a maiden IGT Challenge Tour victory in the season-finale of the Race to Q-School Series at Randpark Golf Club on Wednesday.
The 29-year-old Swede stretched a two shot overnight lead to a three stroke victory on 15-under 201 when he closed with a three-under-par 69 at the Firethorn Course.
Duane Keun posted 68 to finish in sole second, while England's Mark James finished a further stroke back after signing off with a 71.
Central Gauteng amateur pair Jason Rossiter and David McIntyre registered rounds of 69 to tie for fourth on nine under, one shot clear of Anton Haig and Albert Venter.
From is no stranger to the winner's circle, having won four times in the past two years. He arrived in South Africa just a little over a fortnight ago and was extremely pleased to lift another trophy in just his second start on the country's premier golf development circuit.
"I'm really happy with my performance this week and it means a lot to me to lift the trophy," he said.
"I took a 10 year break from golf and only started playing again two years ago. I won tournaments in Spain, Thailand and the Pattana Golf Championship on the Mena Tour, but the last win was over seven months ago. To win this early in the season is brilliant. It gives me a lot of confidence."
From secured a card for the Sunshine Tour via a fifth place finish on the final Order of Merit of the Mena Tour. He planned to compete in Asia until the start of the 2018/2019 season, but decided to come out to South Africa instead on his doctor's recommendation.
"Somewhere along the line I contracted a parasite in Asia and my doctor cautioned me to steer clear of Asia for a while," he said. "So I cancelled all my bookings and came to South Africa. I really wanted to stay competitive so I could be ready for the start of the season, and the IGT Challenge Tour is the perfect place to do that."
From fired successive rounds of 66 to shoot to the top and his lead was never threatened during the final round.
He cruised through the front nine with eight pars and a birdie at the par five fourth and consolidated his lead with further gains at 10, 12 ad 14. "I hit it close at 10 and boxed the birdie putt, and that gave me some nice momentum starting the back nine," he said.
"I drove it really well all week and I was never in any trouble. That was definitely key to the win. I also putted very well and didn't give many shots away. I had a soft bogey at 17 after I hit the birdie putt seven feet past the hole and missed the return, but I was never under any real pressure. It was nice to play stress-free golf and to finish a good scoring week with a trophy."
The final event concluded the 18-event Race to Q-School Series.
The top 10 players who earned exemption into the Final Stage of the Sunshine Tour Qualifying School via the final Order of Merit include money leader Estiaan Conradie and his brother Ruan, who finished in second place. Philip Geerts fired the low round of the day – a 65 – to tie for 15th and punched his ticket to Final Stage with a third place finish in the final standings.
The remaining seven players are Pieter Moolman (4), Tokkie van den Berg (5), Roberto Lupini (6), Ruan Korb (7), Luke Brown (8), Matt Bright (9) and Tristen Strydom (10).

27th February 2018 | Big Easy IGT Golf
James gives chase in Randpark Race to Q-School
(PHOTO – Mark James; credit CJ du Plooy)
Lali Stander
RANDPARK, 27 February 2018 – International campaigners Fredrik From and Mark James both took route 66 at Randpark Golf Club on Tuesday and pulled clear of the chasing pack in the second round of the final event in the Race to Q-School Series.
In his second start on the IGT Challenge Tour, From swept into pole position with eight birdies, including five on the back nine of the Firethorn Course. The Swedish golfer leads the field at 12-under, and is two shots clear of James from England.
Duane Keun carded successive rounds of 68 to lead the local challenge at eight under, while joint overnight leader Matt Bright went around in 72 strokes to finish a further stroke back in a tie for fourth with Mpumalanga amateur Ruhan van Dijk, who also fired a 66.
From brought some good form to South Africa and notched top five finish in his debut at The Els Club Copperleaf last week.
James, meanwhile battled a balky putter for a share of 22nd, however, the Sussex golfer was smiling broadly after day two at Randpark.
"I got the flat-stick going finally and had a really great putting round," said the 27-year-old PGA Teaching Professional. "I hit it just the same as last week, but I had about 10 three-putts less."
James got off to a fast start with an eagle at the par five second and birdies at three and four kept the positive momentum going. "I hit a solid drive down the fairway at the second and knocked a 6-iron from 190 metres out to seven foot and sank the putt," he said. "At three, I hit it to eight feet and I was on the green for two at the fourth and left in the jaws for another eagle.
"Made another good birdie at six to turn five under and then the putter went cold a little for the next four holes. Boxed another short putt for birdie at 14 and nearly holed out at 15. The ball pitched an inch from the hole and stayed put.
"Had my only three-putt of the day at 16, but overall, it was a solid round and I'm keen to see what I can produce in the final round.
James also competed in a few IGT Challenge Tour events last year, but this year there is significantly more pressure.
"This is a really great tour to play, especially during the British winter and I decided to come out and try for the Sunshine Tour this year," he said. "I gave up my teaching job at Pyecombe and came out three weeks ago to prepare for the Qualifying School, but I had a terrible start.
"I was struggling with vertigo and nausea at Killarney, but at least I played three rounds, so I have a good idea what to expect at First Stage. Last week was better, but not great because the putter was so cold, but I'm pretty pleased with the game right now. I an eagle and three birdies over the same stretch of holes on round one and today gave me some good confidence to take into the final round."
Another Englishman also teed it up at Randpark, hoping to shake off the winter rust.
In 2013, Jimmy Mullen and Matt Fitzpatrick were the only amateurs to make the weekend in the Open, and the Devon golfer made his pro debut in the 2015 Alfred Dunhill Links right after he won all four his matches to help Great Britain and Ireland to victory in the 2015 Walker Cup.
Rounds of 75 and 71 will see the 25-year-old Mullen start the final round in joint 35th.

26th February 2018 | Big Easy IGT Golf
Strydom and Bright co-lead Randpark Race to Q-School
(PHOTO – Pretoria Tristen Strydom, credit CJ du Plooy)
Lali Stander
RANDPARK, 26 February 2018 – Former IGT Challenge Tour winners Tristen Strydom and Matt Bright share a one-shot lead in the final event of the 2018 Race to Q-School Series after Monday's first round.
The Pretoria duo toured the Firethorn Course at Randpark Golf Club in flawless fashion, carding rounds of seven-under-par 65 hit the front.
It's all to play for in the finale of the 18-event series geared at preparing young professionals and amateur hopefuls for the two stages of the Sunshine Tour Qualifying School in March. The top 10 ranked players in the Race to Q-School Order of Merit at the conclusion of the final event will punch their tickets for Final Stage, skipping the arduous First Stage and reducing golf's most gruelling test to just 90 holes.
It is last chance saloon for the players in the bubble and the two joint leaders are in the thick of it.
Strydom, currently sitting in 12th spot, carded three birdies on the front nine and followed an eagle at the par five 12th with birdies on the bounce at 14 and 15.
"I wanted a solid start and I got it," Strydom said. "I played well tee to green and the putter worked very well; probably the best it has so far this year. It was nice to get off to a good start, particularly this week and I'm just keen to keep the momentum going."
Bright made consecutive gains on three, four and five and notched another gain at nine to make the turn in four-under. He birdied 10 and eagled the par five 14th to join Strydom in pole position.
"I have been playing well the last couple of months, but the scores didn't reflect it," said the 23-year-old Bright, who is 14th in the current rankings. "Today I was really solid, the putts dropped and I was able to put a low score on the board.
"I made good up-and-downs and pars saves to keep the round going. It's a great start to the final event, but there are still two rounds left. A lot can still happen. I'm just really happy that I've put myself in a strong position early on. That's a good place to go from."
Strydom and Bright are not alone in search of a victory.
The leaderboard after the opening day was as tight as the famously unforgiving fairways of the Firethorn Course as 23 players broke par in the first round and although not everyone in the chasing pack is within reach of the magic number, a win this week will deliver a huge punch of confidence ahead of Q-School.
Sweden's Fredrik Form carded his best round of the country's premier development circuit and sits in third place after his six under par round of 66.
Another former winner David McIntyre racked up four birdies in his last seven holes for a five-under 67 to tie for fourth place with Bryanston amateur Andrew Carlsson.
Englishman Mark James made a quartet of birdies and an eagle on the back nine to grab a share of sixth at four under with Jacques de Villiers, Duane Keun and Pieter Moolman, while Albert Venter finished with back-to-back birdies to share 10th on three under with Pretoria amateur Philip Kruse and Juan Langeveld.
Another five golfers are a shot further back on two under par, including Race to Q-School Order of Merit leader Estiaan Conradie.

21st February 2018 | Big Easy IGT Golf
Albertse edges Van den Berg for Copperleaf win
(PHOTO – Louis Albertse with Els Club Copperleaf Golf Director Jaun Geyser; credit CJ du Plooy)
Lali Stander
PRETORIA, 21 February 2018 – Rustenburg amateur Louis Albertse held his nerve over the last three holes of The Els Club Copperleaf to capture his second IGT Challenge Tour title by one shot on a very wet Wednesday in Pretoria.
The 21-year-old fired a second 64 to grab a share of the overnight lead and headed into the final round with fellow HPC Tuks Golf Academy player Tokkie van den Berg for company on 11 under.
"It was the first time that I shared the lead going into a final round," said Albertse, who closed with a 69 to win on 14-under 202. "It was quite a daunting experience, but I am proud of the way that I kept my composure throughout the round.
"It rained overnight and the conditions were tough. I made birdies at one and four, dropped a shot at five and birdied eight to turn two under. I was happy to have a two shot lead, especially when it started pouring as we turned."
Albertse parked his tee shot at 10 in the left bunker, but made a great up-and-down. His tee shot at 12 veered right into the dam but once again, he made a great recovery to save par.
"I took a drop and had 150 metres to the flag," he said. "The hole was downwind and I hit a sand-wedge to 25 feet and boxed the putt. For me, saving par at 12 swung the momentum my way. It kept the round going."
He made another good up-and-down for par at 13 from the greenside bunker while Van den Berg bogeyed 13 and 14,
Both players birdied the par five 15th, and Van den Berg closed the gap with a birdie at 16. Race to Q-School Order of Merit leader Ruan Conradie also entered the mix with birdies at 15 and 16 and the pressure mounted when Van den Berg birdied the 17th, as well.
"The 17th is a really tough hole," said Albertse. "Ruan and Tokkie hit great shots in, but Ruan missed his birdie chance, but Tokkie knocked his putt in for birdie. I was 35 foot left of the pin. I left my first putt five foot short, but made the par save."
With a one shot reserve, Albertse got a grip on the nerves.
"Holing that clutch-putt gave me a huge injection of confidence," he said. "I felt calm and in control over my tee shot at 18, I hit a good drive down the right of the fairway, but then the adrenaline hit.
"I had 120 metres to the flag. The green was uphill, but the shot was down-wind. I hit a gap-wedge, but it pitched 128 metres. Ruan and Tokkie were both in the bunkers, so I knew a good par would seal the win.
"I had a 10-footer left, but I pushed it three feet past the hole on the first go. It wasn't ideal and I felt the nerves, but I had a little breathing room and cleaned up with a par for the win."
The victory nudged Albertse to eighth in the Race to Q-School Order of Merit.
"My goal for the Race to Q-School Series was to break into the top 10 so I would be exempt straight into the Final Stage of the Sunshine Tour Qualifying School in March," he said.
"It feels unbelievably good to have reached that goal. I had to choose between playing the Sanlam SA Amateur, or playing the last two Race to Q-School tournaments. It was a tough choice, but this win is a confirmation of all the hard work my coach Llewellyn van Leeuwen and I have put in since I moved from Dundee to Pretoria at the end of 2015.
"It has been a really hard and long journey, but that's what so gratifying about this win. I've seen the improvements pay off on the amateur circuit and then on the IGT Challenge Tour. Winning my second title means even more, because most of the guys playing IGT at the moment are heading to Q-School, so the standard is much higher and way more competitive than when I won in June last year."

20th February 2018 | Big Easy IGT Golf
Awesome 27 blasts Albertse into joint lead at Copper Leaf
(PHOTO – Louis Albertse; credit CJ du Plooy)
Lali Stander
PRETORIA, 20 February 2018 – Louis Albertse produced the lowest loop of his career when he raced through the back nine at The Els Club Copperleaf in 27 strokes to grab a share of the second round lead in the penultimate event in the Race to Q-School Series on the IGT Challenge Tour.
It was not the round he was expecting when he stuck his tee in the ground on the first hole.
The big-hitting Dundee-born amateur was four shots off the pace and it didn't look like he was going to gain any ground on first round pace-setter Tokkie van den Berg as he mixed three birdies with two bogeys and a double at the ninth to turn one over.
"I started nicely with three pars and made a birdie at four, but I had a soft drop at five," said the 21-year-old HPC Tuks Golf Academy player. "I made a nice back-up birdie at six, gave it back with another soft bogey at seven, birdied eight and then had a double on nine.
"Every time I felt that I was getting it going, I had a drop. When I started the back nine, I wasn't featuring on the leaderboard and I just told myself to put together a solid back nine."
And everything clicked.
Albertse made three birdies on the bounce from 10, followed a birdie at 14 with an eagle at the par five 15th and fired three successive birdies over the last three holes.
"To start with three birdies in a row was brilliant," said Albertse. "I hit two good shots at 10 and holed the putt and I made a good up-and-down for birdie at 11. At the 12th I hit it into the fairway bunker and I had 115 metres to the pin. It's a tight hole with water on the right and I hit a good shot to leave myself with a six-footer for birdie. My mood definitely lifted with that start."
Albertse parred 13, then hit a 7-iron to 10 foot at the short 14th and made the putt to go four-under.
"Now I felt really confident and positive," he said. "I hit a good drive down the middle at the par five and had 245 metres to the flag. The wind was into us, so I swapped the 4-iron for the hybrid. Hit it just long, right, but chipped it in for eagle."
The Rustenburg golfer had two goals for the last three holes.
"Finish strong and don't drop a shot," he said. "I had 35 metres flag at 16 and I didn't hit my best second shot. I had 10 feet to the pin and I hit it firm and positive and watched the putt drop. The downhill 17th was playing 142 metres, so I hit a normal wedge to 15 foot.
"It was a very tricky putt. My caddie and I saw a three foot break and we had it spot on. The 18th tee was set right at the back. I hit a decent tee shot and a good second from 152 metres into the wind to finish 20 feet from the pin. We got the read right again and I boxed the birdie putt."
Albertse said the 27 – which was one shot shy of the IGT Challenge Tour all-time 9-hole record of 26, set my Maritz Wessels in 2013 – was the result of long working on his putting game with his coach Llewellyn van Leeuwen.
Putts were dropping when he claimed top 10 finishes in the Free State Open and Gauteng North Open to start the 2018 season. A fortnight ago, he tied for fifth in the South African Amateur Stroke Play at Pecanwood and he came into this week on the back of a joint sixth place finish in the African Amateur Stroke Play Championship at Glendower Golf Club last Friday.
"I had 12 putts on the front nine and eight on the back," said the reigning Mpumalanga Open champion, who has risen to 12th on the Open Amateur Rankings this season. "That's another personal record for me. Putting is definitely key to my good scoring lately.
"I shot four rounds in the 60s in the SA Stroke Play and finished with a five under at Glendower after another really good putting round. All I wanted for this week was to be in contention, and I am there. Now I just need to keep that putter warm."
Van den Berg got it to two under with back-to-back birdies after the turn and another pair of gains at 15 and 16 saw him retain a share of the lead with a four-under 68.
Meanwhile Race to Q-School Order of Merit leader Ruan Conradie from Wingate Park moved within one shot of the leaders with a flawless 66. Two-time winner Roberto Lupini also fired a 64 to join Canadian Steven Lecuyer and the Swede Fredrik From in third at eight-under.
Latest Big Easy IGT Golf News